Broadband ExpansionNovember 15, 2023
Bringing Broadband Home
The Story of One Spectrum Employee's Dream to Help Power the Rural Northwoods of Wisconsin With Gigabit Speed Broadband
Share Article:
Spectrum's Mark Olejniczak grew up in the Northwoods of Wisconsin, raking leaves, cutting firewood, and helping maintain the cabins and boats at his family's 16-acre lakefront resort.
He recalls long workdays on the banks of Little St. Germain Lake — surrounded by pristine woods, and glassy water filled with northern pike, walleye and panfish; a tourist mecca in four seasons. Mark has vivid memories of his dad as well; he helped maintain the resort but also spent 40-plus years in telecommunications doing installations and network maintenance. He inspired his son's work ethic, and future career.
"I can still remember sitting at the dinner table when my dad talked about the cable business," recalled Mark. "He said 'I saw the coolest thing. There's going to be this technology — it's the size of a hair and it's going to power cities. It's how everything is going to be connected.'"
Today, Mark is in a unique position. A 20-year Charter employee, he helps to power the Northwoods with gigabit-speed broadband. As a Construction Manager supporting the Company's Rural Digital Opportunity Fund (RDOF) initiative, he oversees the fiber buildout to small rural towns in northern Wisconsin that lack access, including his beloved hometown.
"St. Germain used to be an area where you wanted to vacation, but not live, because you were often limited," said Mark. "But that's changing. Spectrum's work to bring services to the area is a game-changer."
Advances in Technology
Located in Vilas County at the far northern tip of Wisconsin, just eight hours from the Canadian border, St. Germain relies primarily on tourism to drive its economy. Regarded as a premier fishing destination because of its thousands of lakes surrounded by National Forests and tall pines, the area is referred to as Wisconsin's Northwoods. It's known for some of the best hiking trails, wildlife and undeveloped lands in the United States, and until recently was not known for superior internet speeds. Remote and densely wooded terrain frustrated wired broadband providers, including Charter, and wireless options were extremely unreliable, leaving most residents to rely on dial-up connections between slow and molasses (3-12 megabits per second).
Mark and his wife Nicole live in St. Germain with their three children, on the same property where he grew up.
Until a year ago, his busy family was working with a dial-up connection – making it nearly impossible for Nicole, a mental health coordinator with the Northland Pines school district, to stay connected to work from home. And their kids were fighting for bandwidth to do homework and connect their iPads for entertainment.
This fall, Mark's team completed a major expansion to bring gigabit broadband to 1,300 families and small businesses in St. Germain and to the neighboring towns of Sayner, Boulder Junction, Presque Isle, and Manitowish Waters. Spectrum Internet means the Olejniczaks can now work, learn remotely, and stream multiple devices simultaneously.
The Build: Making it Happen Despite the Odds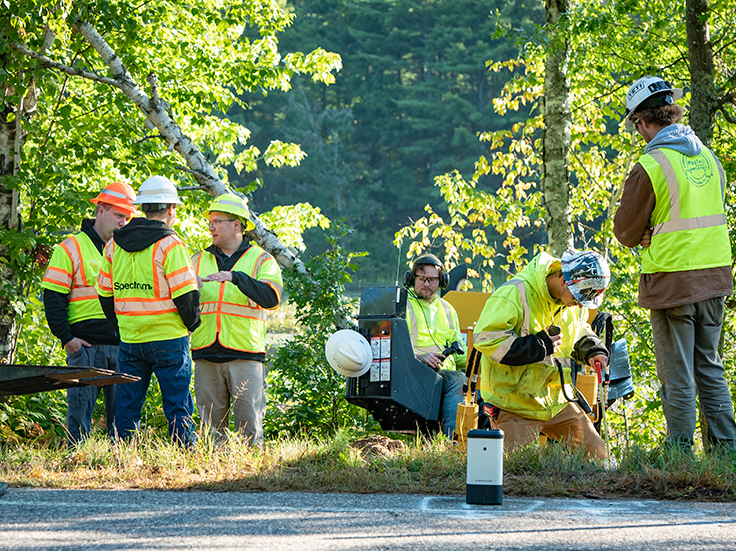 Rural expansion is challenging, even more so with northern Wisconsin's narrow roads that wind alongside lakes and forests.
"Our teams are working in easements that are merely 2-3 feet wide off the road," said Mark, speaking of the privately owned land crews obtained permission to access, in order to bury lines. "We're unique in that we deal with private easements that require the permission of every landowner on the road before construction can ensure."
Mark's team completed about 900 miles of network construction last year, nearly half in St. Germain. More than 95% is underground, given the area's dense forests. Much of the work is done on a compressed schedule due to long winters. Despite these challenges, Mark's team made it happen.
"I have a great team of both Charter employees and contractors," said Mark. "These guys are from here, and many of our contractors have buried lines down these county roads. They know the area and how it's connected, and they have the skill to work in this weather and with the narrow easements."
Telemedicine, Schoolwork, and Small Business Benefit from High-Speed Broadband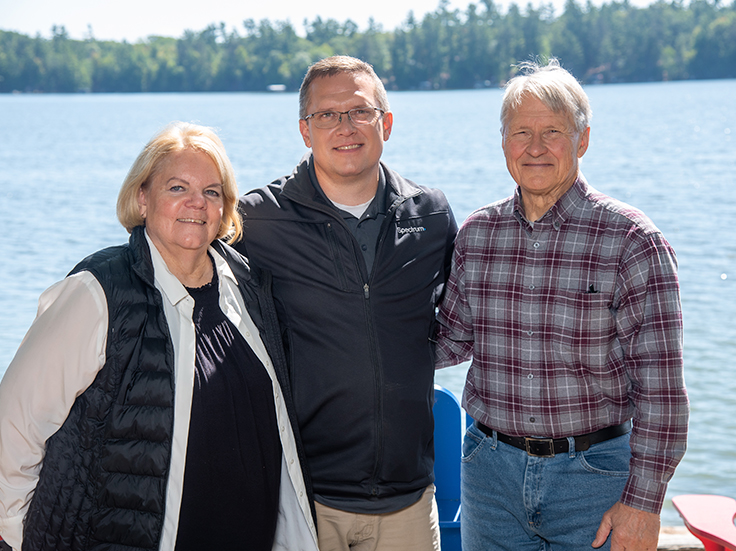 Mark's parents, Carilyn and Tico, live nearby and were among the first to sign up for Spectrum services when they launched last fall. Carilyn recalled the specific date on a dime: September 22.
Along with drastically improved TV and the ability to share pictures among family, his parents perhaps benefited most from telemedicine — avoiding the up to eight-hour roundtrip journeys to meet with doctors.
"Our medical treatments have been in Wausau and Madison," said Carilyn, referring to the 400-plus mile road trips. "Having Spectrum has allowed us to do a lot of follow-up visits virtually, saving us days on the road and motel costs."
Tom and Kim Christensen own St. Germain Sport Marine, where Mark worked as the "bait boy" as a teen. He's also the Town Chairman and is credited with making high-speed internet in St. Germain a reality. Mark and Tom worked closely through the project on the necessary permitting, overcoming construction obstacles, and informing community members. Tom says Mark's knowledge of the area and commitment to serving his community were heroic.
"Mark is just a super human being," said Tom. "He really cares about people. He makes you a promise and you just know it's going to come true. That's the important thing with dealing with a big corporation because people get leery when you call a number and don't know who you have. We know we have a personal touch, because we know Mark."
Mark prides himself on those personal connections, whether it was staying late at town meetings to answer questions, or to chat with neighbors at his son's soccer games or in the driveway — answering their questions about when Spectrum's services would be available. He made phone calls during evenings and weekends to explain the project and got residents' permission to work in their private easements.
Charter's Rural Builds Continue, One Small Town at a Time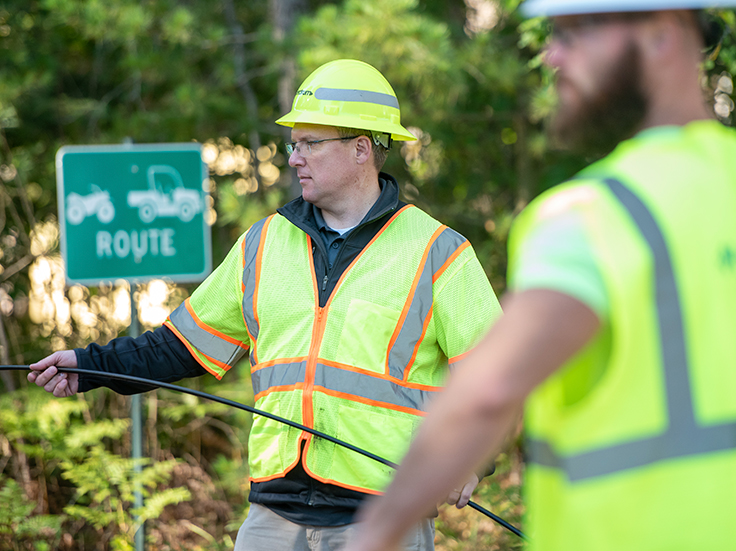 Charter's work to expand broadband access across Northern Wisconsin through RDOF is scheduled to connect additional homes and small businesses in nearby Vilas, Oneida and Forest counties in 2024.
As Mark's labor of love continues, he recalls that dinner conversation with Dad years ago about the future of fiber. His own career illustrates to a new generation of Olejniczak children where the power of technology, fueled by a dedication to learning and serving, can lead.
"It has been very rewarding to help my friends and this community," said Mark. "It means a lot to me. I want to make sure we're doing everything we can to make the towns and residents happy. To see this project come full circle is something that will be a hallmark of my career."
Learn more about Spectrum's Broadband Expansion plans.