Broadband ExpansionJune 16, 2022
Spectrum Expands its State-of-the-Art Broadband Network in Coweta County, Georgia
Coweta County Commission and Community Leaders Join Spectrum for Groundbreaking Event
Share Article:
NEWNAN, Ga. – Spectrum and the Coweta County Commission gathered today for a ceremonial groundbreaking on fiber-optic network expansion projects that will bring gigabit broadband and other Spectrum services to a total of more than 2,000 homes and small businesses in Coweta County, Georgia.
The first project is through a public-private partnership with Spectrum and Coweta County. In conjunction with Spectrum's investment, the Coweta County Commission is providing American Rescue Plan funding for the network expansion that is expected to reach more than 1,000 homes and small businesses in the county.
"We are excited to partner with Spectrum regarding a network expansion that will provide residents access to critical high-speed broadband to work, learn, and connect from home. This progress speaks to Coweta County's dedication to bettering the quality of life for our citizens through the use of ARPA funds," said Coweta County Chairman Bob Blackburn.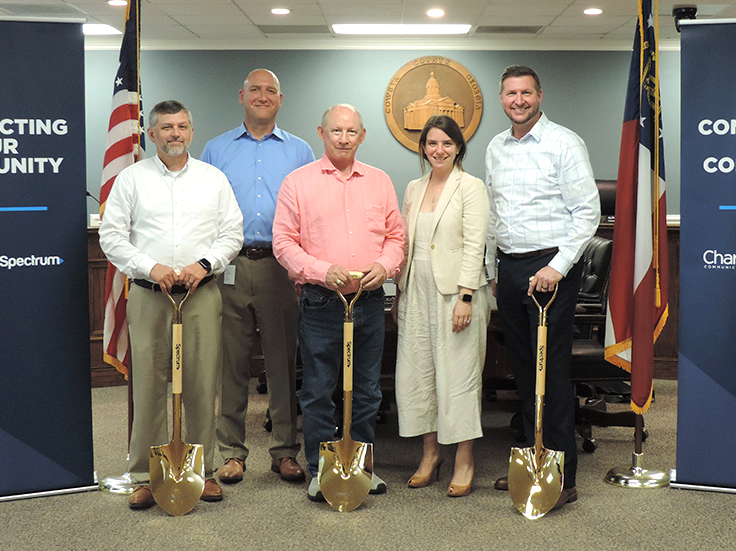 Spectrum will also align its existing Rural Digital Opportunity Fund (RDOF) buildout to help speed deployment to an additional 1,000 homes and small businesses in the county, part of the company's approximately $5 billion investment in unserved rural communities, which includes $1.2 billion won in the Federal Communications Commission's (FCC) RDOF auction. The company's RDOF expansion will provide broadband access to approximately 1 million customer locations as estimated by the FCC across 24 states in the coming years.
"Closing the digital divide is critical to ensuring that every community, regardless of zip code, has access to 21st century opportunities," said U.S. Rep. Drew Ferguson. "Spectrum is doing great work to bring connectivity to Georgia's Third District through its high-speed expansion, and this access will provide strong economic growth for our local communities."
According to the Georgia state broadband map, with completion of both projects, nearly 100% of the locations within the county will have access to a broadband provider.
"Through RDOF, Spectrum is making a multiyear investment to extend gigabit broadband networks to unserved communities across America," said Craig Loden, Vice President of Construction for Spectrum in Georgia. "Our commitment is making it possible to bring high-value broadband, mobile, TV and voice services to Coweta County. We will provide superior connectivity to local residents and small businesses at highly competitive prices, backed by an organization committed to craftsmanship and service."
Ranked by U.S. News & World Report as the Best Internet Service Provider for Rural Areas in its 2021-22 ratings, Spectrum Internet also exceeded advertised download and upload speeds for all tiers measured — even during peak weeknight usage between 7 and 11 p.m. — according to the FCC's most recent "Measuring Broadband America Fixed Broadband Report" issued in December 2021. And all Spectrum Internet plans have no data caps, modem fees or contracts.
Spectrum Mobile™ is available exclusively to Spectrum Internet customers. Combining the fastest overall speeds* with the best devices and a choice of Unlimited or By the Gig data plans, Spectrum Mobile provides customers the highest-quality experience at great value, including access to nationwide 5G. Customers can bring their own phone or choose from among the latest mobile devices and accessories.
Spectrum TV® brings extensive programming lineups to the area, with more than 200 HD channels and access to 85,000 On Demand movies and shows. Using the award-winning Spectrum TV App, viewers can stream content across a growing number of platforms, including iOS and Android phones and tablets, Xbox, Kindle Fire, Samsung Smart TVs, Apple TV 4K, Google Chromecast, Roku and PCs. Spectrum TV customers also have exclusive access to Spectrum Originals, a premier destination for premium original series, available on-demand and ad-free.
Home phone service through Spectrum Voice® provides unlimited calling in the U.S., Canada, Puerto Rico and Mexico; up to 28 popular calling features, including Call Guard, which helps block unwanted robocalls; and no added phone taxes or fees.
* Fastest Overall Speeds claim based on Global Wireless Solutions' combined cellular and WiFi speed test results in Spectrum service area where WiFi is available. Cellular speeds vary by location.
About Spectrum
Spectrum is a suite of advanced communications services offered by Charter Communications, Inc. (NASDAQ:CHTR), a leading broadband connectivity company and cable operator serving more than 32 million customers in 41 states. Over an advanced communications network, the company offers a full range of state-of-the-art residential and business services including Spectrum Internet®, TV, Mobile and Voice.
For small and medium-sized companies, Spectrum Business® delivers the same suite of broadband products and services coupled with special features and applications to enhance productivity, while for larger businesses and government entities, Spectrum Enterprise provides highly customized, fiber-based solutions. Spectrum Reach® delivers tailored advertising and production for the modern media landscape. The company also distributes award-winning news coverage, sports and high-quality original programming to its customers through Spectrum Networks and Spectrum Originals. More information about Charter can be found at corporate.charter.com.
Media Contact
Patti Michel