Press ReleaseSeptember 29, 2022
Charter Boosts South Asian Programming for Spectrum Customers With Addition of Zee Entertainment Channels, New Video Tiers
New 'India View' Video Packages Provide Spectrum TV and Streaming Subscribers Up to 24 New Channels with Greater Flexibility and Value
Share Article:
STAMFORD, Conn. – Charter Communications, Inc. today announced it has launched new South Asian-focused video packages with up to 24 new channels in a programming expansion made possible in large part to a distribution agreement for all of the ZEE channels from India. The new "India View" packages are available to Spectrum TV subscribers and to customers who prefer to receive a streaming video package over the Internet, and feature substantially more content than Charter's previous South Asian video offerings.
Among the new channels included in the India View tiers are the most popular networks from India and channels from ZEE, added through Charter's new distribution agreement with Asia TV USA Ltd., an affiliate of Zee Entertainment Enterprises Ltd. in Mumbai. In addition to renewing the agreement for the flagship Hindi general entertainment channel Zee TV already offered by Charter, the deal includes the addition of 22 ZEE channels in multiple languages for Spectrum video customers, including &TV, Zee Bangla, Zee Kannada, Zee Keralam, Zee Marathi, Zee Punjabi, Zee Tamil, Zee Telugu, Zee News, Zee World and WION (World is One News).
"Our agreement with ZEE gives Spectrum customers access to some of the most popular news, sports and entertainment programming from India in multiple languages," said Tom Montemagno, Executive Vice President of Programming Acquisition for Charter. "The addition of ZEE's channels to our lineup enables us to offer our customers South Asian-focused video packages that are meaningfully more robust, with enhanced flexibility and value, and directly aligns with our commitment to provide programming that reflects our customers' diverse interests and perspectives."
To promote the new programming and India View tiers, Charter and ZEE have launched a co-branded marketing campaign in Spectrum markets with high South Asian populations, including Los Angeles, New York and Dallas, focusing on the streaming packages: India View Stream for $19.99/month and India View Stream Plus for $29.99/month. The companies' agreement marks the latest step by ZEE to serve the growing South Asian communities in the U.S. Since 1998, ZEE has been present in the U.S, taking a localized approach of promoting culturally rich stories while connecting South Asian audiences to their home country.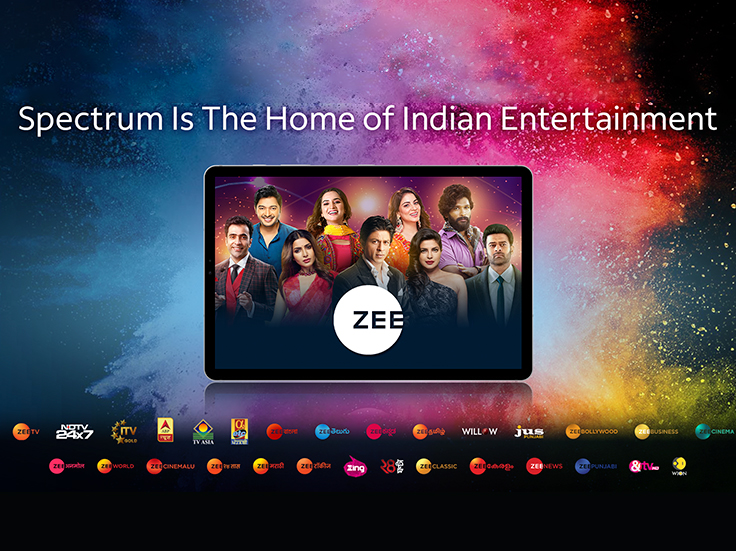 "The U.S. market is an important part of Zee Entertainment's international strategy, and the increase in the South Asian population in the U.S. gives us an opportunity to serve the content needs of the growing population segment," said Punit Misra, President of Content and International Markets at Zee Entertainment Enterprises. "The vast majority of our audiences who live in the U.S. are foreign born and have immigrated to the U.S. There is a very strong brand affinity in this group towards ZEE. We are delighted to expand our partnership with Charter to make this premium suite of channels available to Spectrum customers."
"Our partnership with Charter is extremely vital to our growth objectives in the U.S., and the agreement facilitates availability of a large variety of entertainment options targeted towards the South Asian audiences for Spectrum customers," said Ashok Namboodiri, Chief Business Officer for International Business at Zee Entertainment Enterprises Ltd. "In addition to the Hindi content, we firmly believe that our next set of growth is expected from the vernacular languages like Telugu, Tamil, Kannada, Marathi, Bengali, Malayalam and Punjabi, and ZEE is evaluating various production opportunities which will bring immense value to this growing population segment in the United States."
More information about Spectrum's South Asian TV packages is available here.
About Charter
Charter Communications, Inc. (NASDAQ:CHTR) is a leading broadband connectivity company and cable operator serving more than 32 million customers in 41 states through its Spectrum brand. Over an advanced communications network, the company offers a full range of state-of-the-art residential and business services including Spectrum Internet®, TV, Mobile and Voice.
For small and medium-sized companies, Spectrum Business® delivers the same suite of broadband products and services coupled with special features and applications to enhance productivity, while for larger businesses and government entities, Spectrum Enterprise provides highly customized, fiber-based solutions. Spectrum Reach® delivers tailored advertising and production for the modern media landscape. The company also distributes award-winning news coverage, sports and high-quality original programming to its customers through Spectrum Networks and Spectrum Originals. More information about Charter can be found at corporate.charter.com.
About ZEE Entertainment Enterprise Ltd.
About ZEE Entertainment Enterprises Ltd. (BSE: ZEEL): Zee Entertainment Enterprises Ltd. is a leading content company offering entertainment content to diverse audiences. With a presence in over 190 countries and a reach of more than 1.3 billion people around the globe, ZEEL is among the largest global Media & Entertainment Companies across genres, languages, and integrated content platforms. The Company regularly uses its website as a key source of Company information which can be accessed at www.zee.com.

Media Contacts
Charter Communications, Inc.
Andrew Russell
Andrew.Russell@charter.com
Zee Entertainment Enterprise Ltd. - USA
Akhilesh Gupta, EVP Content Distribution & Licensing, ZEE5 B2B
917-967-0729
Akhilesh.Gupta@zee.com