Press ReleaseMay 31, 2022
KevOnStage and Tony Baker Deliver the Laughs at 'The Spectrum Virtually Funny Comedy Show,' Premiering Friday, June 3
Exclusive Comedy Special also Features Ron G. and Tahir Moore and will be Available on YouTube, Facebook and Spectrum On Demand
Share Article:
STAMFORD, Conn. – Does anime belong in a basketball game? Would people kill bugs if they had eyelids? Is cereal the true soul food? Those questions and more will be explored in outrageous fashion when Spectrum presents the "The Spectrum Virtually Funny Comedy Show" starring Kevin "KevOnStage" Fredericks and Tony Baker, with special guests Ron G. and Tahir Moore. Available to customers and non-customers of Spectrum services, the exclusive special will premiere on Fredericks' YouTube channel and Facebook page, and simulcast on Spectrum's YouTube channel on Friday, June 3 at 8 p.m. ET, and will be available exclusively on Spectrum Originals On Demand on June 7.
"Kevin and Tony are among the funniest stand-up comedians working today, and our collaboration represents the type of distinctive content we want to bring to the diverse communities we serve across our footprint," said Marisol Martinez, Vice President of Multicultural Marketing for Charter Communications, Inc. "Spectrum customers and fans will be able to use their favorite connected devices to enjoy the show from virtually any location, whether at home or on-the-go, ensuring they won't miss a beat of this hilarious performance."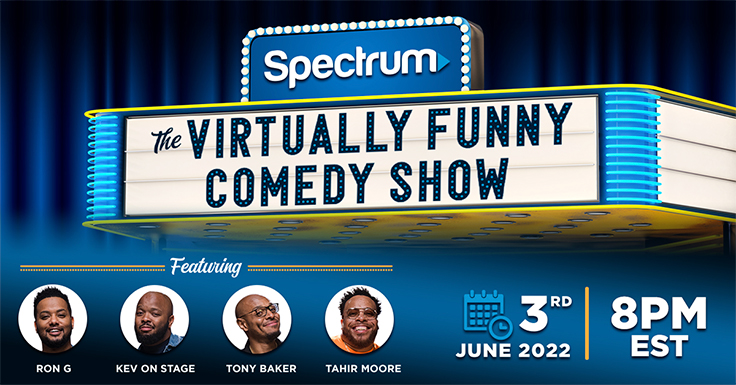 The prerecorded show is a continuation of Spectrum's partnership with the two comedians, which includes commercials promoting Spectrum's advanced Internet, Mobile and TV services. KevOnStage has amassed millions of social media followers, and Baker has been making people laugh for nearly a decade at comedy clubs and on numerous TV shows. Both Ron G. and Moore are accomplished stand-up performers, actors and influencers.
"Spectrum has been an outstanding partner and true believer in investing in Black creators," KevOnStage said. "They began with commercials and now expanded into supporting live comedy. I look forward to what we can do together next."
"The Spectrum Virtually Funny Comedy Show" is part of Spectrum's extensive multicultural programming options, which includes the company's recent expansion of several African American-themed networks, including REVOLT TV, TV One and CLEO TV, to its Spectrum TV Select® video tier. Spectrum TV Select features more than 125 of the most popular cable news, sports, and entertainment networks as well as access to free On Demand programming and the award-winning Spectrum TV App for live video streaming inside and outside of the home. More information about Spectrum products and services is available at www.spectrum.com.
About Spectrum
Spectrum is a suite of advanced communications services offered by Charter Communications, Inc. (NASDAQ:CHTR), a leading broadband connectivity company and cable operator serving more than 32 million customers in 41 states. Over an advanced communications network, the company offers a full range of state-of-the-art residential and business services including Spectrum Internet®, TV, Mobile and Voice.
For small and medium-sized companies, Spectrum Business® delivers the same suite of broadband products and services coupled with special features and applications to enhance productivity, while for larger businesses and government entities, Spectrum Enterprise provides highly customized, fiber-based solutions. Spectrum Reach® delivers tailored advertising and production for the modern media landscape. The company also distributes award-winning news coverage, sports and high-quality original programming to its customers through Spectrum Networks and Spectrum Originals. More information about Charter can be found at corporate.charter.com.
Media Contact
Leslie Byxbee