News and ViewsAugust 6, 2020
How Charter is Making a Difference in Local Communities During a Time of Pandemic and Economic Challenges
Share Article:
Charter is committed to supporting and improving the communities we serve, including through employee volunteerism, and in-kind and philanthropic support. Through our various Community Impact initiatives, we strive to improve the lives of people by providing safe and healthy housing, enhancing digital literacy, and funding human services and essential needs programs, to name just a few.
As the pandemic affects communities around the globe, Charter employees go above and beyond to provide our broadband connectivity services without interruption, and this commitment extends to our philanthropic and community initiatives. Social distancing and other pandemic-related safety measures have changed how we will approach our signature Community Impact programs in the short-term, but our focus on investing in the communities we serve by promoting broadband education, making homes safer, and stimulating local economies by investing in small businesses and local organizations is unwavering. Here's a look at how each program pivoted to meet the needs of our communities in 2020:
Spectrum Digital Education
Over the last four years we have committed millions in cash and in-kind contributions through Spectrum Digital Education to support digital literacy and training in communities across our 41-state footprint. After hearing from our nonprofit partners who were struggling during the pandemic, we opened the application process earlier for the 2020 grant program to help meet the overwhelming need for digital training and education. This funding will be provided to support organizations that have developed unique ideas to address the digital divide, such as creating mobile labs, purchasing devices for families and holding virtual digital learning sessions. We are currently reviewing applications and look forward to announcing the next round of support in August.
Spectrum Housing Assist
Spectrum Housing Assist is continuing with some changes to keep our volunteers socially distanced and safe. SHA's goal is to have improved 50,000 homes across our footprint by 2020, with employee volunteers providing home repairs, installing smoke alarms and distributing Safe & Healthy Home kits that include home cleaning supplies and fire safety items. To meet our 50K goal by year's end, we are working with our longtime partners like the National Urban Indian Family Coalition (NUIFC), League of United Latin American Citizens (LULAC) and National Urban League (NUL) to distribute more than 10,000 home safety kits to homeowners in need.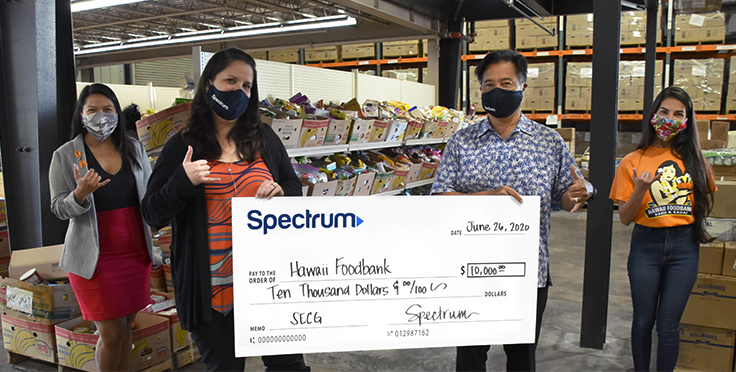 Spectrum Employee Community Grants
Charter created the Spectrum Employee Community Grants program in 2019 to give employees an additional way to support local nonprofits where they volunteer. Funds are awarded to local organizations such as food pantries, homeless shelters and job-placement programs. In recent months, the program has focused on COVID-19 relief efforts and recent beneficiaries have included the Denver Rescue Mission, the Turnaround Center in Lebanon Junction, Kentucky, and the Hawaii Food Bank in Honolulu.
In addition to supporting communities during this difficult time with the above programs, two of Charter's newest philanthropic initiatives help address pressing needs throughout our service area brought on by the pandemic and a challenged economy.
Spectrum Community Investment Loan Fund
Charter announced the launch of the Spectrum Community Investment Loan Fund in February, with a goal of supporting small businesses in underserved communities across our footprint through low-interest loans provided by community development financial institutions (CDFIs). In June, we announced additional investment partnerships with the National Urban League and National Action Network to support Black and other minority-owned small businesses. The addition of those partnerships increased Charter's Loan Fund commitment for the year to $13 million. Charter previously announced investments of $1 million each in Pursuit Community Finance in New York, PeopleFund in Texas, and the Economic and Community Development Institute (ECDI) in Ohio. Over the next year, the Loan Fund expects to make additional investments across CDFIs in California, Florida, North Carolina and Wisconsin.
Spectrum Scholars
Finally, Charter's new scholarship and mentorship initiative, Spectrum Scholars, aims to provide a total of $400,000 in scholarships to class of 20 underrepresented college juniors in our footprint in August. We launched Spectrum Scholars in May with the help of our national nonprofit partners, the American Indian College Fund, OCA-Asian Pacific American Advocates, UNCF (United Negro College Fund) and Society of Hispanic Professional Engineers (SHPE).
We believe in making an impact in Charter communities and have adjusted our focus and resources to go where they are needed most. The company will continue to invest in the diverse communities that make up our 41-state footprint and assist the neighborhoods and municipalities we serve.