CorporateNovember 6, 2017
Charter Communications Supports Hiring Veterans
Share Article:
Charter Communications is working to provide jobs for veterans through several programs and partnerships designed to attract and retain the brave men and women who have served in the U.S. military.
This Veterans Day, we honor veterans with our unwavering commitment to provide paths to a career at Spectrum. As a result of active recruitment and expanded outreach, veterans, National Guard members and active reservists make up 13 percent of our total workforce, or nearly double the government guideline for veteran hiring.
"Veterans' skills translate well to our company. Our veterans are highly skilled problem solvers," said Executive Vice President, Human Resources Paul Marchand. "They bring efficiency and a mission-oriented mindset that is effective across all business units and in varying levels of the company, including executive leadership."
Read below for more information on three of the many important programs we have partnered with to support veteran and military hiring.
Veteran Apprenticeship Program Success
Fernando Calderon is a Private First Class in the Missouri Army National Guard, and one of nearly 11,900 veterans and active military who work for Spectrum.
Fernando Calderon is a Private First Class in the Missouri Army National Guard, and enrolled in our Broadband Technician Apprenticeship Program. In the National Guard, Fernando has learned interior electrician training, along with construction skills for roads and barriers. He is now a Field Technician II, based in Kansas City, Missouri and one of nearly 11,900 veterans, National Guard members and active reservists compelled to build a career at Charter.
We announced an expansion of the Veteran Apprenticeship Program in May alongside Missouri Gov. Eric Greitens, a former U.S. Navy SEAL. Currently the program is offered in five states, with progress underway to make this a company-wide initiative across our 41-state footprint in the near future.
"I've learned a lot from the military, from other veterans here at Spectrum, and through the process I've become a better problem solver," said Fernando, who has been with Charter since March. "The apprenticeship program is a fairly simple, but thorough, process. I like how the company - from my supervisor up to the area vice president and beyond - really stands behind the program to support me. The encouragement to grow professionally is important to me."
Fort Bragg Partnership Offers a Bridge for Active Military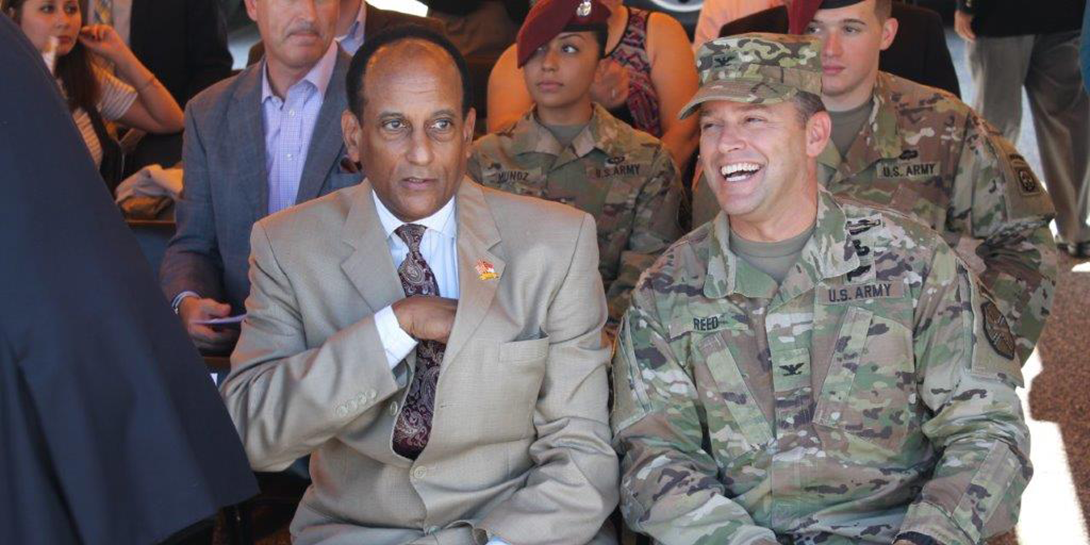 Larry D. Hall, Secretary for the North Carolina Department of Military & Veterans Affairs, and Col. Kyle Reed at Fort Bragg.
In July, Charter officially began its partnership with Fort Bragg, helping to open a new, one-of-a-kind Career Resource Center (CRC) on the Army base in North Carolina. Our first class of new hires is expected to begin in the next few months.
Finding post-military employment is an important issue facing service members who are transitioning off active duty and Charter is doing its part to help. Charter will utilize its space in the CRC to attract candidates for the Field Technician Training Program.
The new center at Fort Bragg provides a place for screening, interviews, skills training and initial on-boarding of job seekers.
Charter is a Proud Supporter of the Military Spouse Employment Partnership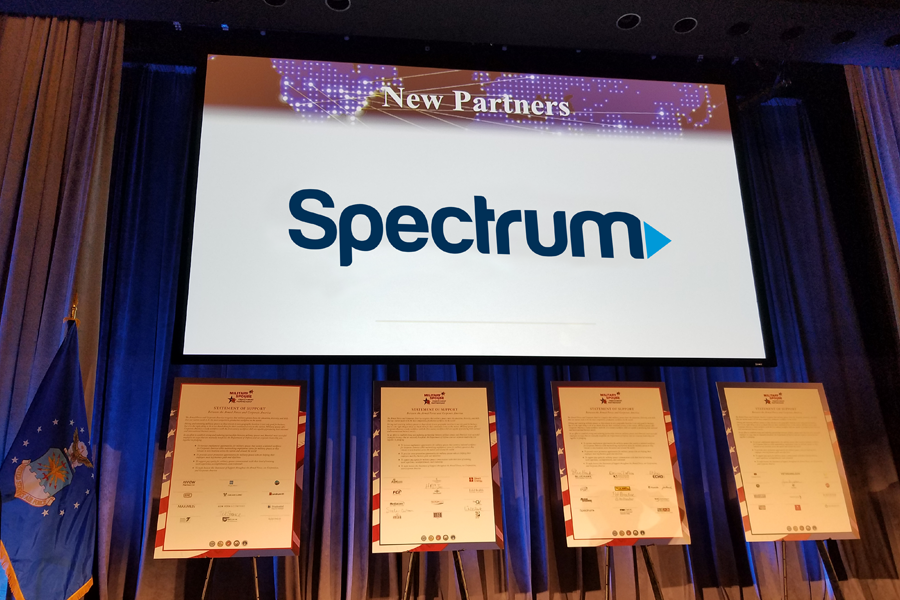 The company was inducted into the Military Spouse Employment Partnership in October.
In October, Charter was inducted into the Military Spouse Employment Partnership, a Department of Defense recruitment and employment program that helps place military spouses in Fortune 500 companies.
Military spouses often deal with frequent relocation while supporting our troops, which can translate into career challenges. Working together, MSEP and Charter can better address this major challenge military spouses face, to help them forge long-term, portable careers.
"Charter's veteran outreach aligns with the company's overarching diversity and inclusion efforts," said Senior Vice President and Chief Diversity Officer Rhonda Crichlow. "These programs underscore our commitment to military and veteran hiring."
To learn more about Spectrum's Veteran and Military Hiring, or apply for a job, visit our Careers website.