Community ImpactDecember 1, 2014
Welcome to Charter our Community!
Share Article: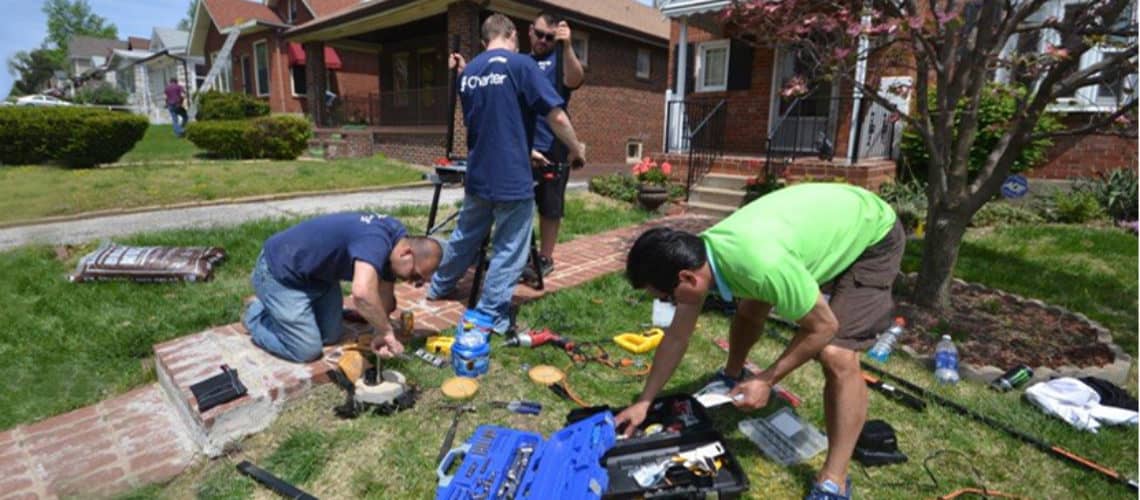 Thank you for visiting our website! We'd like to share some details about what Charter our Community is, the goals of the program and how we plan to achieve them.
First, some background information. According to the U.S. Department of Housing and Urban Development, 2.6 million low-income American families live in unsafe or unsuitable housing conditions today; 250,000 of which live in the communities that Charter serves. For these homeowners, making even simple repairs to enhance their home's safety and stability is a significant struggle. When a home begins to fall apart, there are serious consequences, including:
Safety hazards
Increased energy costs
Risk to home equity
Loss of dignity
A negative impact on the community
Our Commitment to Safe and Healthy Homes
Charter our Community is Charter Communications' national philanthropic initiative. Through the program, we will provide a combination of information, resources and volunteer support to ensure that more Americans have the ability to live in safe and healthy homes.
Charter our Community's goal: To improve 25,000 unsafe and unhealthy homes across the United States by 2020.
To accomplish this goal, we will collaborate with nonprofit organizations like Rebuilding Together that are focused on rehabilitating and rebuilding homes. Here are some of the specific things we'll be doing:
Home Renovations: Through our partnership with Rebuilding Together, we'll renovate homes across the communities we serve, providing critical home repairs, accessibility modifications, safety and energy-efficient upgrades.
Product Giveaways: In 2015, we will be begin distribution of home renovation products in select markets to assist with home safety.
CharterOurCommunity.com: Also starting in 2015, on this website you'll find tips on how to maintain safe and healthy homes. You'll can also read the inspiring stories about the people impacted by Charter our Community and the volunteers who are making a difference.
Be sure to check out the counter on this website's homepage where you'll be able to track our progress towards the 25,000 homes by 2020 goal. Also, you can participate in Charter our Community by:
If you have any questions, please contact us. On behalf of the 23,000 Charter employees who are engaged with Charter our Community, thank you for supporting this important initiative.