Press ReleaseNovember 15, 2021
The New York Times #1 Best Selling Book Series 'Joe Pickett' has its Television Debut Exclusively on Spectrum
The Paramount Television Studios Produced Drama Will Premiere on Monday, December 6
Share Article:
LOS ANGELES – Beneath the scenic vistas of the Wyoming wilderness lies a tangled web of schemes and secrets which will slowly be uncovered when the first three episodes of Joe Pickett drop exclusively on Spectrum (available on-demand, free and without ads) on Monday, December 6. New episodes will continue dropping every Monday for the following three weeks until the finale on Monday, December 27. The series will also be available to stream on Paramount+ at a later date.
Joe Pickett - based on the book series of the same name and led by showrunners John Erick Dowdle and Drew Dowdle and Red Wagon Entertainment's Doug Wick and Lucy Fisher - follows a dedicated game warden (Michael Dorman) and his family as they navigate the shifting socio-political climate of a small rural town on the verge of economic collapse. When a murder victim winds up on Joe's doorstep, a larger conspiracy looms, and the Picketts find themselves in the crosshairs. Without the support of local law enforcement, Joe alone must decide what it means to be a good man and a good father in a world on the edge.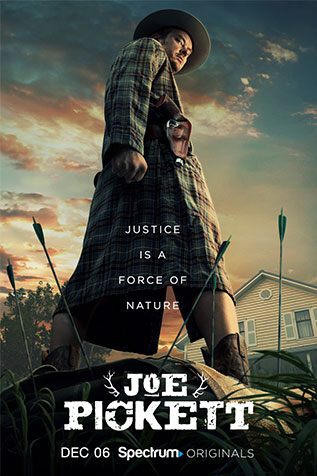 The stellar ensemble cast includes series regulars: Michael Dorman as "Joe Pickett," David Alan Grier as "Vern Dunnegan," Julianna Guill as "Marybeth Pickett," Sharon Lawrence as "Missy," Paul Sparks as "Wacey," Mustafa Speaks as "Nate Romanowski," Skywalker Hughes as "Sheridan Pickett" and Kamryn Pliva as "Lucy Pickett." Recurring Guest Stars include: Patrick Gallagher, Chad Rook, Benjamin Hollingsworth, Leah Gibson and Aadila Dosani.
The series comes from acclaimed creators, directors, showrunners and executive producers, John Erick Dowdle and Drew Dowdle (Waco). Doug Wick and Lucy Fisher serve as executive producers for Red Wagon Entertainment. The series is based on The New York Times #1 bestselling book series by C.J. Box, who also serves as executive producer. Box's novels have sold millions of copies in the U.S. alone and have been translated into 27 languages.
About Spectrum Originals
Spectrum Originals is a premier destination for premium original series available exclusively to Spectrum video subscribers on-demand and ad-free. An initiative of Charter Communications, the service launched in 2019 with the Sony and Bruckheimer-produced drama "L.A.'s Finest," starring Gabrielle Union and Jessica Alba. Currently in production is the global event series, "A Spy Among Friends" starring critically acclaimed actors, Damian Lewis and Guy Pearce along with the Paramount Television Studios produced drama "Long Slow Exhale," a mystery drama set in the high-stakes world of women's basketball. Upcoming projects include a limited series co-production with Paramount Network, "George & Tammy," starring Oscar® nominee Jessica Chastain as country music legend Tammy Wynette, and hitchcockian thriller, "Angela Black," created and produced by Emmy® and Golden Globe®-winning producers Harry and Jack Williams and starring Golden Globe Winner® Joanne Froggatt. Currently airing on the platform are the Michelle and Robert King produced satirical drama, "The Bite," Mark Strong-led thriller "Temple" along with popular limited series "Mad About You," "Manhunt: Deadly Games" and "Eden." More information on Spectrum Originals can be found here.
About Charter
Charter Communications, Inc. (NASDAQ:CHTR) is a leading broadband connectivity company and cable operator serving more than 31 million customers in 41 states through its Spectrum brand. Over an advanced communications network, the company offers a full range of state-of-the-art residential and business services including Spectrum Internet®, TV, Mobile and Voice.
For small and medium-sized companies, Spectrum Business® delivers the same suite of broadband products and services coupled with special features and applications to enhance productivity, while for larger businesses and government entities, Spectrum Enterprise provides highly customized, fiber-based solutions. Spectrum Reach® delivers tailored advertising and production for the modern media landscape. The company also distributes award-winning news coverage, sports and high-quality original programming to its customers through Spectrum Networks and Spectrum Originals. More information about Charter can be found at corporate.charter.com.
About Paramount Television Studios
Paramount Television Studios is a leading studio, developing and financing a wide range of cutting-edge and entertaining television content across all media platforms for distribution worldwide. The studio's robust slate includes "The Offer" (Paramount+), "Grease: Rise of the Pink Ladies" (Paramount+), "American Gigolo" (Showtime), "Made For Love" (HBO Max), "Station Eleven" (HBO Max), "Shantaram" (Apple TV+), "Defending Jacob" (Apple TV+), "Home Before Dark" (Apple TV+), "Tom Clancy's Jack Ryan" (Amazon Prime Video), "The Haunting of Bly Manor" (Netflix), "The Haunting of Hill House" (Netflix), "Catch-22" (Hulu), "Long Slow Exhale" (Spectrum Originals), "Joe Pickett" (Spectrum Originals), "13 Reasons Why" (Netflix), and "The Alienist: The Angel of Darkness" (TNT), among others. Paramount Television Studios is a is a subsidiary of ViacomCBS (NASDAQ: VIAC; VIACA), a global content company with premier television, film and digital entertainment brands.
Media Contacts
Scenario PR (on behalf of Spectrum Originals):
Jennifer Reed
Molly Kukla
Paramount Television Studios:
Casey Spiegel
Charter Communications:
Justin Venech