SpectrumAugust 9, 2018
'Summer of Gig' Shines On Another 6 Million-Plus Addresses
Share Article:
Spectrum Internet Gig is available this week to over six million more U.S. homes and businesses, capping this "Summer of Gig" with another sizable rollout. These launches cover more than two dozen new markets, including Tampa-St. Petersburg, Fla.; Buffalo, N.Y.; Columbia and Myrtle Beach, S.C.; Madison, Wisc.; the Rio Grande Valley in Texas; as well as Spectrum cable systems in the greater Atlanta and New Orleans regions.
Overall, Spectrum Internet Gig is now offered to more than 70 percent of our footprint.
Rolling Out Gig to More Than Two Dozen New Markets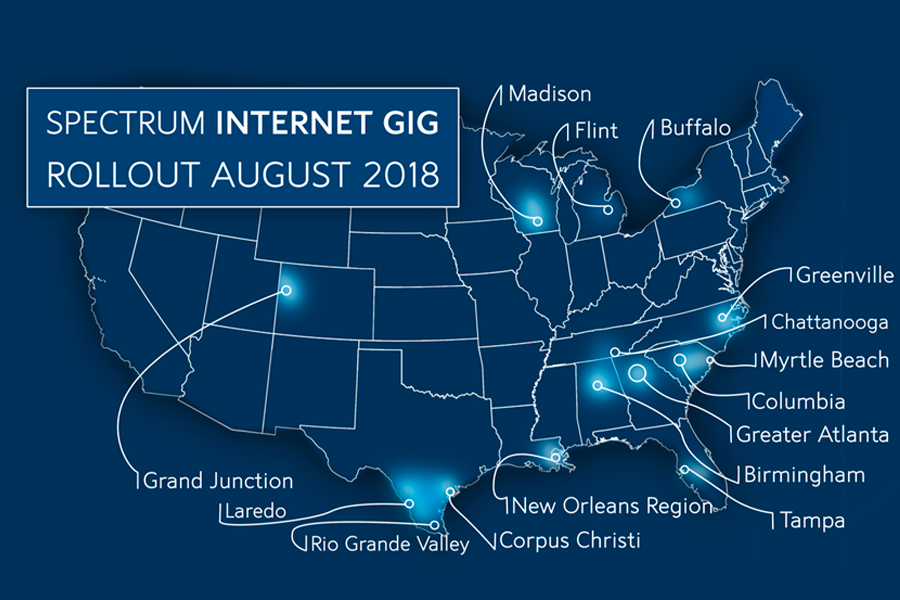 Spectrum Internet Gig is on track to be available to virtually our entire 41-state footprint by the end of 2018.
Check out our updated map above for an overview of launched markets this August.
Also available in these markets: Spectrum Business Internet Gig, which delivers the bandwidth and capacity small and medium-sized firms need to drive the local economy. Spectrum Business Internet Gig isn't all about fast speeds; it also includes features like WiFi for lobbies and customer waiting areas, custom domain and email addresses, and cloud backup and security software.
All these features are included at no additional charge, with no contracts or hidden fees.
What's Next?
If it isn't the "Summer of Gig" where you live, hang in there: we're still right on track to deliver gigabit connections across virtually our entire 41-state service area by the end of the year. Check out our progress:
We started our gig rollout last December launching first in Oahu before reaching millions of homes in new markets featuring DOCSIS 3.1 internet services delivering a 1 Gbps connection.
In April, we neared 23 million homes with our spring rollout of Spectrum Internet Gig.
And in June, we rolled out to 4 million more homes and businesses, eclipsing 27 million homes across our footprint to begin "Summer of Gig."
For more information on Spectrum Internet click here.
*Maximum download speed of 940 Mbps. Speed may vary by location.