News and ViewsMarch 18, 2021
Streaming? Casting? Mirroring? Whatever the Platform, Spectrum TV® Has Customers Covered
Share Article:
With a bevy of binge-worthy shows and innovations in video distribution, it's never been so easy, or confusing, to watch TV.
Today, people don't just watch TV. They stream, cast, and mirror. They watch live news and sports and movies on demand, through a set-top box, on apps, or over the air. They watch TV on huge flat screens in their living room, on laptops at the kitchen counter, and on mobile devices on the go, or on the couch.
"The way customers are consuming video content is changing every day," says Jodi Robinson, Senior Vice President of Digital Platforms for Charter Communications, Inc., which operates the Spectrum brand of TV, internet, voice and mobile services. "We are always looking to innovate and find ways to make our video products easily available to all customers so they can enjoy their Spectrum TV service wherever and whenever they want."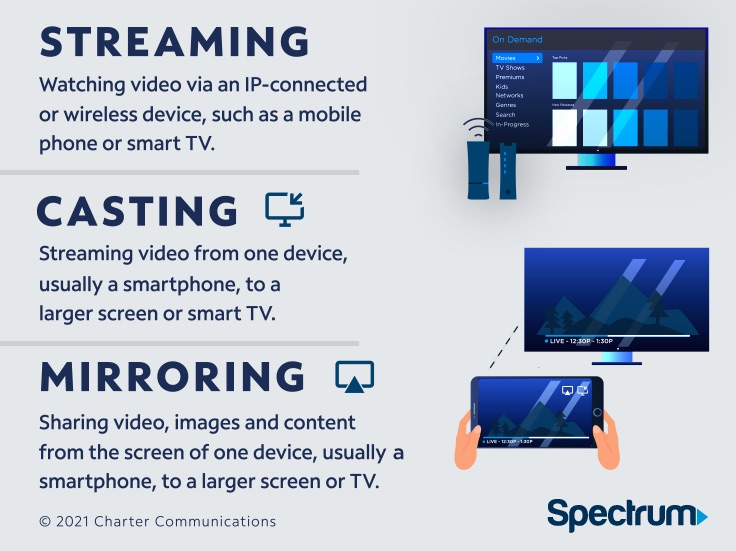 Getting the Most Out of Spectrum TV
Watch the video below to learn more from Robinson about how Charter is making it easier for customers to find and watch their favorite content. She also provides the following tips to help customers make the most of their Spectrum TV subscription:
Learn the lingo. "Streaming" means watching video via an IP-connected or wireless device. "Casting" and "mirroring" both refer to sending a signal from one device, usually a smartphone, to a larger screen or TV. But they differ in that when casting, users can still use their phone without interrupting the video, whereas with mirroring, exactly what is on the phone screen is shown on the larger screen. Learn more here.
Download the Spectrum TV App. Charter's app is the go-to TV-viewing platform for millions of Spectrum customers monthly. It's available at no additional charge and can be installed on most popular operating systems and devices, including iOS, Android, Apple TV, Chromecast, Kindle, Xbox One and Samsung Smart TVs. The Spectrum TV App can be used to stream TV inside and outside of the home, and the app's compatibility with Chromecast and Apple AirPlay makes it easy to cast or mirror video to a larger screen. More information is available here.
Dig into On Demand. Customers can find more than 60,000 shows, movies and more on Spectrum TV On Demand. Subscribers can stream On Demand content on the app, or "cast" or "mirror" On Demand movies to another TV over their in-home Spectrum Internet.
Manage Services with the My Spectrum App. The top rated My Spectrum App gives customers an easy way to update their account, adjust WiFi settings, pay bills, troubleshoot equipment, view package details and channel lineups, and more. The app is available for free for iOS and Android devices. Find more information here.
Install the Spectrum News App. This innovative local news app showcases original content from more than 30 Spectrum News networks located across nine states and in several major cities, including Charlotte, Dallas, Los Angeles, Milwaukee, New York and Tampa. The Spectrum News App is available on iOS and Android smartphones and tablets to all 28 million Spectrum residential customers, including internet-only subscribers. More information is available here.
Access Spectrum Access. This free app allows customers with vision or hearing impairments to play audio description or closed captioning directly from their phone or tablet for more than 400 On Demand movie titles. The app also works with streaming services, such as Hulu, Netflix and Amazon Prime. What's more, the Spectrum Access app is now available for Android in addition to iOS devices. Learn more here.
All trademarks remain the property of their respective owners.