Community ImpactFebruary 24, 2017
Spectrum Volunteers Assist a Fort Worth Veteran in Need
Share Article:
Jerry remembers the day 45 years ago when he first became a homeowner. "The proudest I ever was was the day I paid for this house," he said, sitting on the front porch of his Fort Worth, Texas home.
But like the peeling paint spread across the house's wood siding, Jerry's pride faded with each passing year that he wasn't able to properly maintain his home.
Recently Spectrum Housing Assist and our national partner Rebuilding Together stepped in to help make Jerry's home safe and healthy again.
A Rough Go for a Veteran and his Son in Fort Worth
Jerry, a Vietnam Veteran, supervises the rebuild at his Fort Worth, Texas home.
As a U.S. Marine serving in Vietnam, Jerry suffered extensive injuries to his knees as he jumped to escape an overturning truck. Surgeries and complications followed, leaving him disabled and reliant on a wheelchair.
Jerry's son, himself a Marine who served in Operation Desert Storm, kept up his parents' house for years until his own medical problems culminated in his death just five days after his 40th birthday.
"He was such a good kid," Jerry said. "He wanted to follow in his dad's footsteps. He wanted to be a Marine. They train you to be the best."
Back from the Brink, a Veteran's Prayers Are Answered
A Spectrum volunteer paints the exterior of Jerry's home.
With his son gone, Jerry's house began to rapidly deteriorate.
"We didn't have anyone else to help us," said Linda, Jerry's wife. "It was eventually going to just fall apart."
At the suggestion of a social worker with the Veterans Administration, Linda reached out to our national partner's affiliate, Rebuilding Together Greater Dallas, for help.
"It wasn't a week before they called me back," she said. "It was a prayer that had been answered."
Volunteers Transform Home in a Single Saturday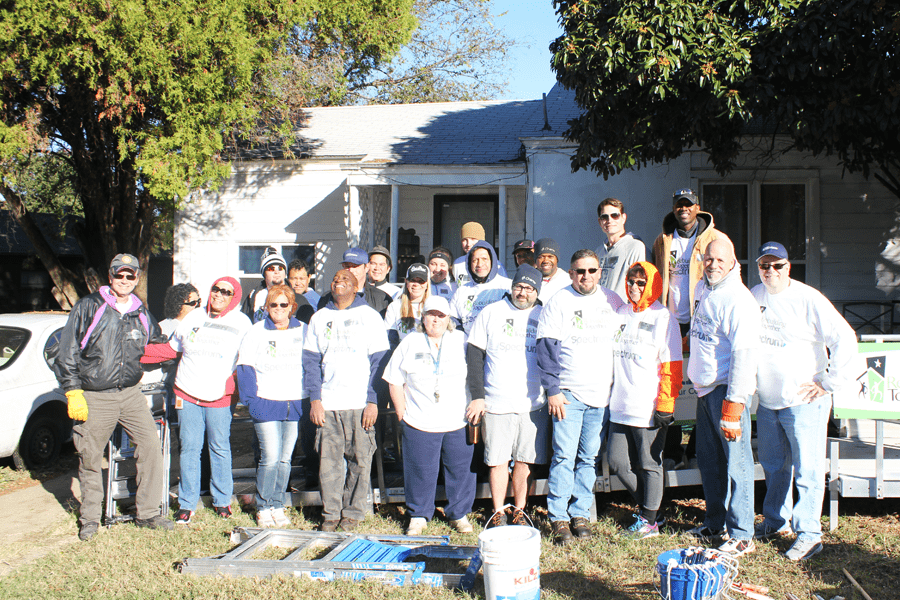 Spectrum and Rebuilding Together volunteers teamed up to help make Jerry's home safe and healthy again.
As part of the Spectrum Housing Assist program, more than 20 Spectrum volunteers joined forces with Rebuilding Together to make much-needed repairs to Jerry's home.
"I just wanted to help a fellow person out – but especially a veteran," said Jaymes, a SpectrumBroadband Technician who is also a United States Marine Corps veteran. "It's about helping people who can't help themselves."
Jerry beamed as he watched a small army of Spectrum employees apply fresh paint to his exterior walls. Volunteers trimmed overgrown trees and removed truckloads of debris from Jerry's front and back yards. New bolts secured the metal wheelchair ramp leading to Jerry's front door, and new siding covered gaps in the home's front wall.
Local U.S. Congressman Tours the Rebuild Site
Rep. Veasey speaks to Jerry's wife and full-time caregiver Linda on site at the rebuild.
"I can't wait to see the finished product!" said Rep. Marc Veasey as he toured the work site with Torrey McGraw, Senior Manager of Government Affairs for Spectrum.
Rep. Veasey, who serves as a member of the House Armed Services Committee, was pleased to see Spectrum and Rebuilding Together working together to assist a veteran in need.
"We really appreciate your coming out and helping to rebuild the community," he said as he addressed the volunteers. "It gives them hope. It instills a new level of energy in the neighborhood."
Veteran Is Moved to Tears by Volunteers' Work
A Spectrum volunteer clears tree branches from the property.
Jerry and Linda agreed that the generosity of the Spectrum volunteers gave them a new sense of optimism for the future.
"I've had two strokes, three heart attacks, and I'm still here. I know I'm blessed," Jerry said. "I appreciate everything they've done. It fills my heart. I can't talk about it without crying."