News and ViewsDecember 14, 2021
Spectrum Launches New Disability Support Team
Share Article:
Spectrum is rolling out several improvements to help ensure that customers with disabilities get the technical support they need - quickly and with minimal transfers - as part of its goal to be a leader in supporting people with disabilities.
To achieve this, Spectrum has established a new Disability Support team in its call center in El Paso, Texas. The support team is staffed with 60 specialized representatives trained to handle calls from customers with disabilities from across Charter's service area.
"Delivering superior support to our customers with disabilities is a priority at Charter," said Christopher Fulton, Group Vice President, Call Center Operations. "With these improvements, our customers with disabilities will be able to connect with the right representative to help them, improving service and reducing the need for call transfers."
Driving Spectrum's goal to lead the industry in disabled support is that a majority of the U.S. population with vision, hearing and cognitive disabilities lives within the designated market areas that overlap the company's footprint.
Faster, Better Tech Support for the Disabled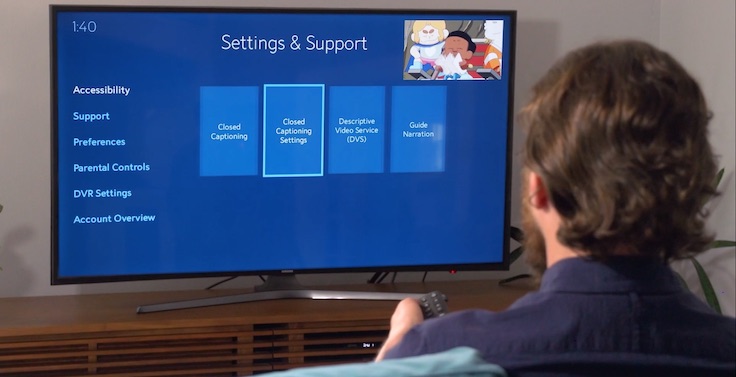 Spectrum has trained the representatives for its new Disability Support team to universally field calls from customers regarding video, internet, phone services and TV Essentials. Importantly, they can make changes to a customer's Spectrum equipment from their workstations remotely, such as turning on closed captioning, guide narration and descriptive audio services, thus reducing the need for customers with disabilities to make changes to their equipment.
"We help customers who normally wouldn't be able to enjoy their video services – because they are hearing or sight impaired – by setting set up their closed captioning and descriptive video services," said Sandy Johnson, Supervisor, Disability Support.
All residential customers who self-identify as having a disability can receive assistance from the new Disability Support team. Spectrum provides a toll-free number (844-762-1301), found on its web page dedicated for disabled tech support (https://www.spectrum.net/disability), that customers can use to directly contact the Disability Support team.
"By ensuring that calls from persons with disabilities are properly handled by agents who are trained to support them the first time, we will be able to gain new operational efficiencies while building satisfaction and loyalty among our customers," said Steve Raymond, Vice President of Accessibility.
To learn more about Spectrum's accessibility products and support, click here.