News and ViewsJuly 30, 2020
How the All-New Spectrum News App Aims to Deliver Local, Mobile News That Matters
Share Article:
In the vast and varied landscape of mobile-delivered news content, the leadership of Spectrum Networks has found an opportunity. Research reveals that few media brands are succeeding in delivering truly local news, yet, more than ever, consumers want access to high-quality local journalism. Now, Spectrum Networks will leverage its powerful newsgathering capabilities to fulfill that need.
"People want one place to go," said Alison Hellman, Group Vice President of Audience and Content Strategy for Spectrum Networks. "So many companies are focused on mobile news at a national scale but there is a real gap in the marketplace as it relates to local. We had a vision of how we could bring the best and most-trusted local journalism to our communities."
Following myriad conversations, the Spectrum Networks team reached consensus on a blueprint for a new mobile news app. The Spectrum News App, which launched July 27, is an inventive, mobile-first product for Spectrum's residential customers, including internet-only customers. It is created for those who want to stay connected to local news throughout the day within a personalized and highly-dynamic experience.
Designed and developed in-house, the Spectrum News App offers a holistic outlet for Spectrum News' flagship hyperlocal news, political and public affairs, general interest, and comprehensive weather reporting. It features original content produced by teams of dedicated digital reporters, and content from Spectrum's existing newsrooms and weather teams, as well as locally-relevant content from partner news organizations. In addition to the digital-first journalism housed on the app, the Spectrum News App also brings Spectrum's objective, award-winning linear news channels to all 28 million Spectrum residential customers.
Bringing the Spectrum News App Vision to Life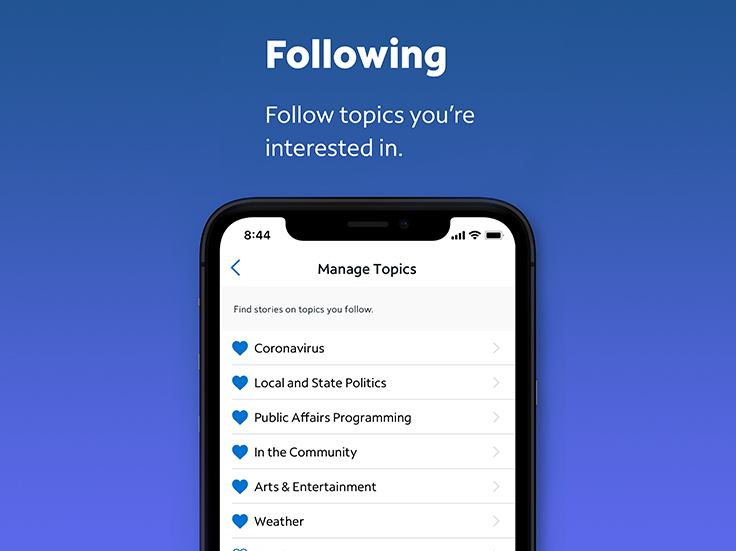 Charter's Digital Platforms team, headed by Jodi Robinson, was tasked with bringing the app to life. Robinson's team worked quickly to map out a technology strategy and partner with the Spectrum Networks team on an innovative mobile-first experience.
"We were able to leverage existing knowledge and platform technology from the existing Spectrum TV Platform to rapidly develop a unique and compelling experience," said Robinson, "The Spectrum News App is a great complement to Charter's broader portfolio of products and services."
"It was immediately clear that this vision for the app — a fresh, user-friendly, customizable, mobile news platform designed for our communities — had real potential. We had the means to create something unique – the first content product provided by Spectrum to all 28 million of our residential customers," said Hellman.
From both a user's perspective and a publishing perspective, the Spectrum News App is designed for efficiency. The easy-to-navigate user interface is fully accessible and is continuously monitored for optimum performance. The backend content publishing capability enables real-time delivery, so the content in the app remains fresh, relevant and timely.
"The platform is architected in a way that enables our news teams to have a reliable, real-time connection with the customer," said Robinson.
Later this year, select Spectrum Mobile phones will come pre-loaded with the Spectrum News app. The app is currently available on iOS and Android phones and tablets via the Apple and Google Play Stores respectively.
News Partnership Model Adds to Value of Spectrum News App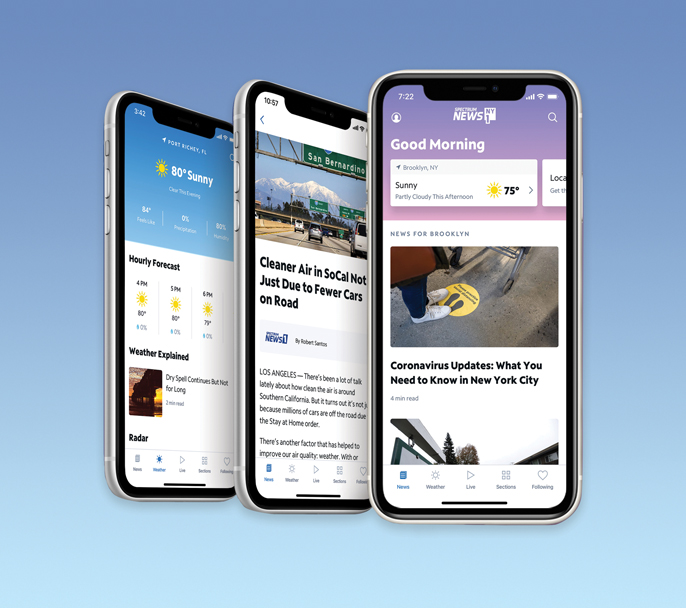 Spectrum Networks has partnered with local news organizations in communities across the country to ensure a compelling and diverse mix of voices and perspectives to complement Spectrum News' existing storytelling and reporting.
The app will include local content ranging from stories from major daily newspapers to community digital news outlets, niche publications, non-profit media, and radio stations in Florida, New York, Los Angeles, Ohio, Wisconsin, Texas, Kentucky, and North Carolina.
Consistent with Spectrum Networks' approach to investing in more 'boots on the ground' local reporting, Spectrum has added dozens of journalists to its existing pool of multimedia journalists who live and work in the communities they serve, and transformed teams to meet the changing demands of news gathering and reporting in a digital world.
"We're investing in local journalism at a time when other local news organizations are being gutted," said Hellman. "We know the impact of local news on our communities, our families, and the decisions we make every day. The app brings high-quality, locally relevant journalism to more people and helps us connect with them in innovative, meaningful ways."
To learn more and download the Spectrum News app, click here.