CorporateAugust 15, 2016
Charter Supports Emma Bowen Foundation Career Fair
Share Article:
Charter Communications (including the recently acquired Time Warner Cable and Bright House Networks) participated in the annual Emma Bowen Foundation (EBF) Career Fair in New York City.
Founded in 1989, EBF "recruits promising students of color and provides them with multi-year paid internships at some of the nation's leading media companies." The career fair gave more than 150 of these interns, who were finishing their senior year of college, the opportunity to discuss full-time job opportunities with companies like Charter.
Career Fair Success Story: From Summer Intern to Full-Time Employee
Freddy Sessoms, Specialist, Market Development, is a former EBF fellow who interned for Time Warner Cable's Survey & Design department between 2003 and 2007. He went on to get a full-time position with the company, after completing his eight-plus weeks of training during each of his summer breaks from Colgate University.
Of his time at the career fair, Sessoms remembers, "I was somewhat intimidated by the environment, but also excited by what I was a part of. The career fair was a resource that I could use to establish myself with decision makers in the media industry."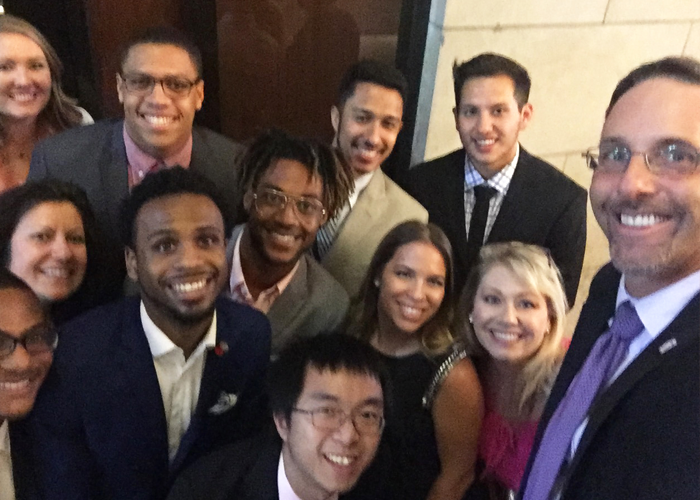 Seth Feit, Group Vice President-Talent, (far right) poses for a selfie with Charter Communications' Emma Bowen Foundation fellows.
Helping to Make the Media Industry More Diverse
According to Seth Feit, Group Vice President, Talent, Charter is a major supporter of the Emma Bowen Foundation and its efforts to recruit young people of color to help make the media industry's landscape more diverse.
"Charter prides itself on providing a diverse and inclusive workplace.We have a customer base made up of people from different backgrounds, cultures and beliefs and we want to make sure we have an employee population that is reflective of our customers that can relate to them. With that strategy, we can provide the best products and services to our customers, and grow our business."
To learn more about job opportunities at Charter, please check out our career website.