Community ImpactFebruary 24, 2017
Charter our Community Is Now Spectrum Housing Assist
Share Article:
Charter Communications is pleased to announce our philanthropic efforts, formerly known as "Charter our Community," will now be Spectrum Housing Assist.
Charter Communications is America's fastest growing TV, internet and voice company delivering a wide range of services to residential and business customers through the Spectrum brand. We are committed to the communities where our customers and employees live, work and play.
Through our signature philanthropic program, Spectrum Housing Assist, we're working to ensure more Americans live in safe and healthy homes, with a goal of improving 25,000 homes across the United States by the year 2020. As of January 2017, Spectrum Housing Assist has improved 8,144 homes with the help of 2,164 Spectrum employee volunteers for a total of 12,053 volunteer hours.
Inspiring Stories From Around the Country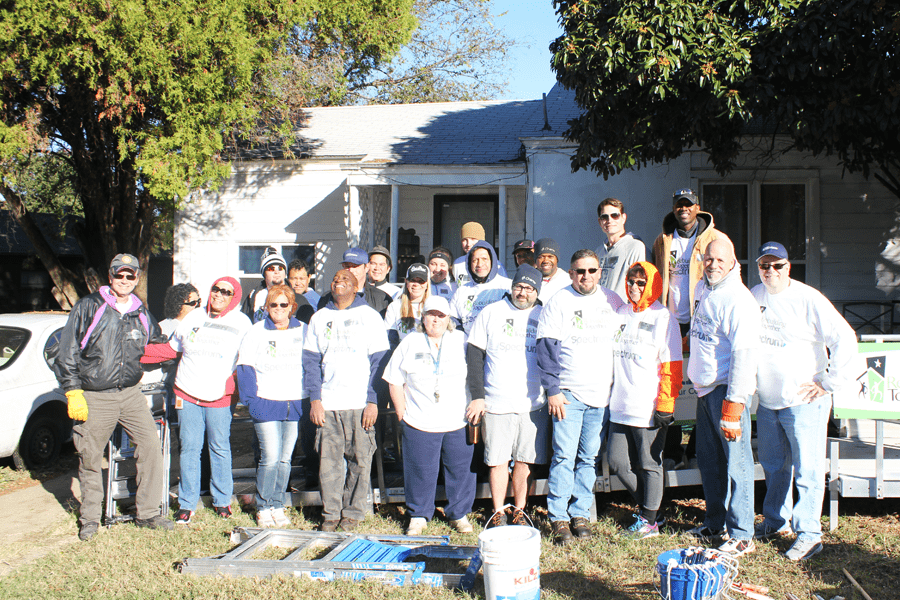 Spectrum and Rebuilding Together volunteers teamed up to help make Vietnam veteran Jerry's home safe and healthy again.
Spectrum Housing Assist is up and running and around the country. From Texas to New York, rebuilds are in full swing.
In Fort Worth, Texas Spectrum volunteers once again teamed up with the Dallas affiliate of our national partner Rebuilding Together. This time volunteers helped a local Vietnam veteran who lost his son, (also a former Marine who served in Operation Desert Storm) make his home safe and healthy again.
In New York City, in conjunction with Rebuilding Together and other corporate partners, more than 100 volunteers completed 800 hours of service, as part of the SheBuilds event to rebuild the Sarah Powell Huntington House.
In Alton, Illinois and Cape Girardeau, Missouri volunteers partnered with the American Red Cross to help install smoke detectors and provide fire safety education to homeowners as part of the Red Cross's Home Fire Campaign.
2017 and Beyond
Our sincerest thanks goes out to the homeowners who have allowed us to help make an impact in their lives, as well as Spectrum employee volunteers, our national nonprofit partner Rebuilding Together and other local home rebuilding partners across the country. All of you have made this program a success. We look forward to working with our growing list of partners in 2017 as we improve more homes across the United States.