News and ViewsMay 24, 2021
Spectrum Access App Gaining Strong Adoption Among Vision and Hearing Impaired
Share Article:
Since its launch in May 2020, the Spectrum Access App has witnessed strong adoption among users, bolstered by an expanding list of titles, as well as the App's advanced features and capabilities. The App is just one of many innovations from Charter's Accessibility Team, which is dedicated to creating products that are fully accessible for people with disabilities, including the sight and hearing impaired.
"Serving customers with disabilities with innovative products like the Spectrum Access App is one of our top priorities here at Charter," said Peter Brown, Group Vice President, Design & Accessibility, at Charter Communications. "The rapid adoption of this App is a prime example of how the Accessibility Team's hard work and expertise has resulted in the development of leading-edge products that work for all customers."
An Expanding Library of Titles for the Hearing and Vision Impaired
Helping to boost adoption of the Spectrum Access App is the fact that it now features more than 400 movies, many of which are available in Charter's On Demand library, and over 100 television programs. And the list keeps growing.
A sampling of popular movie titles includes Joker, Captain Marvel, Black Panther, The Avengers: Infinity War, Moana, 1917, La La Land, Love and Monsters, MLK/FBI, Little Fish, Irresistible and Book Club. Popular TV shows include L.A.'s Finest, Chicago Med, Chicago Fire and Temple.
Audio Casting Emerges for Spectrum Access App Customers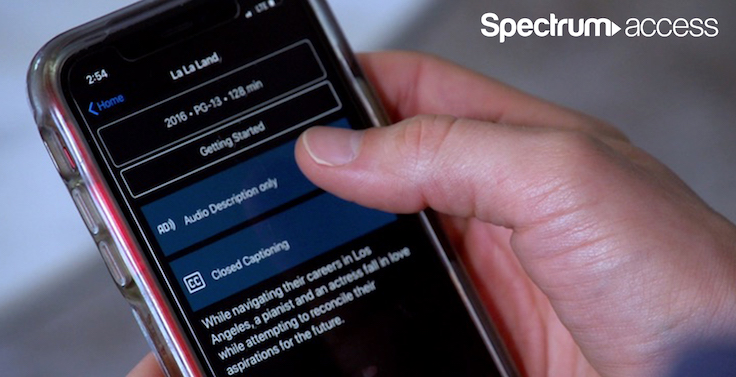 The App's audio casting capabilities is another factor driving adoption – particularly among persons with both hearing and sight impairments.
"One of the big 'ah-ha's' after we launched the App was, if you are a person that is hard of hearing - they are using it more for the sound than just the audio description," said Steve Raymond, Vice President, Accessibility at Charter Communications. "The product provides customers an additional use - one which we learned through research."
Raymond shared the story of a Spectrum Access App user with retinitis pigmentosa who previously had to run a cable 12 feet between the TV and his chair, while wearing headphones, so he could hear the TV sound. Now with the App, the user can plug his ear buds into his phone and really hear the sound. And, he can use just the television sound – or both audio description and the sound from the television.
Accessibility Experiences That Work for Everyone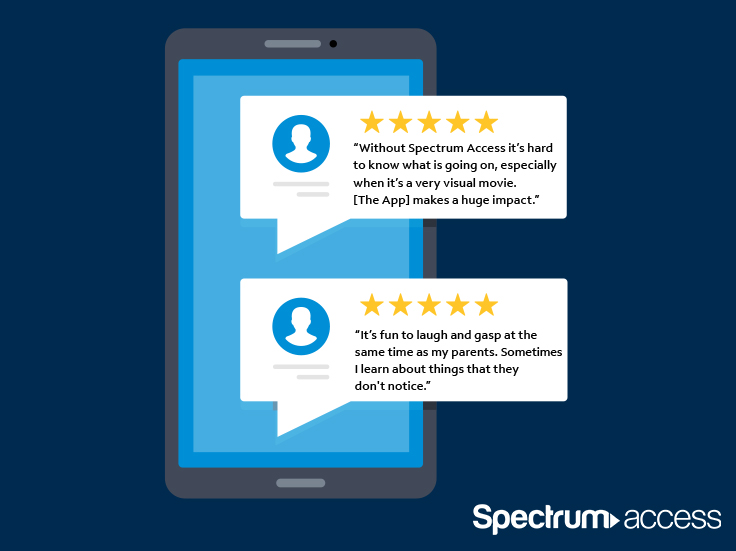 Actual reviews from Spectrum Access App users
Available for iOS devices via the Apple App Store and Android via the Google Play store, the App is a prime example of how Charter goes above and beyond to design universal product experiences that work for everyone.
"I love the feeling of independence to watch a movie and be able to enjoy it with friends," one user wrote in an online review on the App store. "I can laugh at the funny parts with my friends without someone having to say, 'Somebody just did this or that.' I'll already know because of the voice in my ear."
Learn about the Spectrum Access App and other accessibility options available to Spectrum customers here.