News and ViewsApril 1, 2022
Latina LEADS: Empowering Latina Success in STEAM
Charter Sponsored LULAC Program Promotes Arts and Sciences for Young Students
Share Article:
In classrooms in California, Florida, Ohio and Texas, middle school girls stay after school for hands-on study as part of Latina LEADS, a science, technology, engineering, arts and math (STEAM) focused program developed by the League of United Latin American Citizens (LULAC) and sponsored by Charter Communications.
It's been inspiring, they say.
"I feel blessed and empowered," said Katya Dae Cotchery, a participant in El Paso, Texas. "I'm learning that young women from all walks of life can do and become anything, as long as they work hard. Our workshops make me feel that my dreams are within reach."
LULAC launched Latina LEADS in 2019, with the goal of equipping Hispanic middle-school aged girls with the information they need to chart their own paths forward in STEAM fields. The program curriculum includes educational lessons, interactive activities and career information. Following its inaugural success, the program has expanded from three sites in Austin, Texas to seven sites within Charter's footprint. Latina LEADS currently serves participants in four locations based in Texas (El Paso, Austin, San Antonio and Killeen), and one program each in California (Hollister), Florida (Bartow) and Ohio (Dayton).
"I've gotten the opportunity to participate in STEAM activities that can help me study for my future career," said Daniela Loanne Vachier Oliveras, a middle school student in Killeen, Texas. "After I graduate from high school I plan to pursue a career in science or math and get a PhD."
Going Behind the Scenes: Technical Careers at Charter
This year, Charter has begun to offer more targeted Latina LEADS programming that provides an insider's look at technical careers at the company. Last month, it hosted a virtual field trip at its Spectrum News 1 location in Austin, Texas. Alex Stockwell, an anchor, and Emily Borchard, meteorologist, joined the girls for a "walk and talk" tour of the newsroom, featuring brief interviews with employees who work in front of and behind the camera. The girls learned about the roles and daily responsibilities of team members who are critical to a newscast, from the technical expertise of meteorologists and broadcast engineers to the news reporting process driven by an executive producer. Upcoming Charter-sponsored sessions aim to highlight different data and technology roles at the company and the education and steps that help to attain them.
Partnering with LULAC to Empower Latinas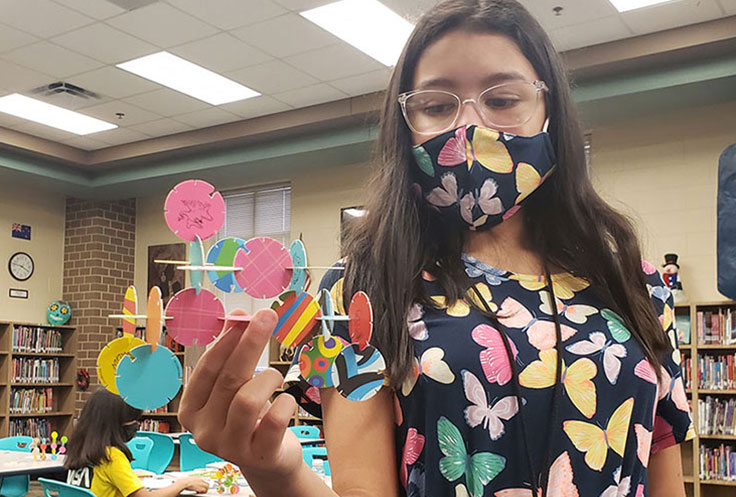 The League of United Latin American Citizens (LULAC) is the largest and oldest Hispanic organization in the United States. LULAC's mission is to advance the economic condition, educational attainment, political influence and civil rights of Hispanic Americans. In addition to broadcasting, upcoming Latina LEADS sessions hosted by LULAC will focus on telecommunications, engineering, and cybersecurity, helping the girls realize the breadth of opportunities available to them in these fields.
"STEM fields are anticipated to grow over twice as fast as others over the next decade. Yet individuals of diverse ethnic and racial backgrounds are under-represented in these fields. Latinas in particular hold only two percent of science and engineering roles," said Rhonda Crichlow, SVP and Chief Diversity Officer at Charter. "Latina LEADS strives to address this gap, helping us develop a critical pool of diverse talent that will support our continued technological innovation while boosting the career potential of young Latinas."
In 2019, the program's first year, participants reported that they became more interested in achieving academic success, including attending college and pursuing a STEAM career. One hundred percent of participants said it was important to graduate from high school after the program, and 95% believed it important for women to work in STEAM fields.
Latina LEADS is one of many programs and initiatives that Charter supports with the goal of empowering local communities within our footprint through promoting economic opportunity and access to information.