News and ViewsJuly 8, 2021
How Spectrum Mobile™ is Reinventing Mobile With Speed, Simplicity and Value
A Q&A with Chief Mobile Officer Danny Bowman
Share Article:
Three years ago this summer, Charter launched Spectrum Mobile with a goal of offering Spectrum Internet customers simple data plans, great value and high-quality connectivity at home and on the go. Today, Spectrum Mobile has become the nation's fastest growing mobile provider* and is redefining the mobile experience for millions by combining its nationwide 5G and 4G LTE coverage with Spectrum Internet and WiFi to deliver the fastest overall speeds**.
As we celebrate the third anniversary of Spectrum Mobile, we talked with Danny Bowman, Chief Mobile Officer for Charter, to learn more about how Spectrum's blend of speed, simplicity and value is reinventing the mobile industry. It's an industry Bowman helped build in his 30-plus years as a wireless executive before joining Charter in early 2018. Here is what he had to say: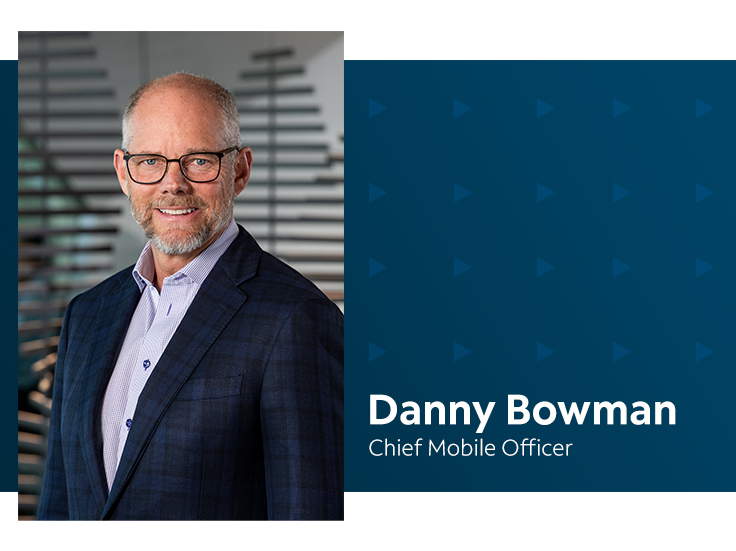 Why is Spectrum Mobile a great choice for consumers? What sets it apart from other providers like Verizon, T-Mobile and AT&T?
We are focused on making it easy for people to do business with us. We pride ourselves on keeping it really, really simple. We offer unlimited and by the gig rate plans, and all plans include taxes, fees, no contracts, unlimited voice calls, unlimited texting, free calls to Mexico and Canada, and access to nationwide 5G and 4G LTE. We carry the best devices that people care about, and we make it simple for customers to bring their own devices. So, not only do we save people money, but they don't have to buy a mobile device from us.
You have been in the mobile industry for more than three decades. What's different today about how people are using their phones?
There was a time when mobile communications occurred exclusively over cellular networks. But a little secret the cellular companies don't want consumers to know about is that today, the vast majority of mobile data usage is happening over WiFi. People are on their devices in their homes, at work, on the go or at their favorite local business. They're using voice and text, streaming video and browsing the web. With Spectrum Mobile, approximately 80% of data traffic is on WiFi, and only 20% connected to cellular networks. It's not just our company – other mobile providers are experiencing similar trends. Charter is one of the nation's largest broadband providers; we designed our service to combine WiFi with cellular because that's how people actually use their phones.
So how does Spectrum Mobile work, from a customer's perspective?
We combine Spectrum Internet, Advanced Home WiFi and our more than 500,000 Out-of-Home WiFi access points with nationwide 5G and 4G LTE cellular service from our wireless partner. From a customer's perspective, that means they are getting the best of both worlds – WiFi and cellular – and benefitting from the highest-quality mobile experience. And because customers need our internet service to sign up for Spectrum Mobile***, they get to take advantage of the huge savings, up to 40% off their monthly bill, that comes from bundling their products. Our goal is to provide customers with the best connectivity experience that gives them the freedom to use their favorite devices the way they want, while saving them money.
What makes Spectrum Mobile faster than other mobile carriers?
Consumers care about speed. It affects how quickly they can stream movies and shows, download apps or shop and search online. We are the first mobile provider to deliver WiFi in a way that benefits mobile customers. WiFi is faster than cellular, faster than 5G. WiFi is the foundation of our customers' mobile experience, and combining these superfast WiFi speeds with cellular drives excellent mobile performance, which enables us to deliver the fastest overall speeds. Spectrum Mobile customers experience data speeds that are more than 35% faster than those received by our competitors' customers****. That's a huge differentiator for us over other mobile providers.
What can customers expect next from Spectrum Mobile?
Customers should expect we will continue to provide bundled offers of great connectivity products at huge savings in the marketplace. Think more for less; faster speeds while saving money. We also know having the best devices is important to our customers. We offer a best-in-class portfolio of devices. Earlier this year we added the first smartwatches to our lineup, and more recently we began selling Motorola's Moto E and Moto G Play phones. And just as we've done in other areas of our business, we will continue to make it easier for customers to manage their Spectrum Mobile accounts at home, from their devices, or in-person at one of our stores.
More information is available here.
* "Fastest Growing Mobile Provider" claim based on Q1 2021 subscriber data.
** "Fastest Overall Speed" claim based on Global Wireless Solutions, Inc. combined cellular and WiFi speed test results for Spectrum, Verizon, AT&T and T-Mobile mobile customers in Spectrum service area where WiFi is available from 1/1/2021 to 4/30/2021.
*** Spectrum Internet required. Auto-pay required. For Unlimited, speeds are reduced after 20 GB of usage per line. Restrictions apply. For details, refer to Spectrum.com/policies/mobile-terms.
**** Based on weighted average of Global Wireless Solutions, Inc. combined WiFi and cellular speed test results for Spectrum, Verizon, AT&T and T-Mobile mobile customers in Spectrum service area from 7/1/2020 to 3/31/2021.