News and ViewsDecember 17, 2018
2018 'Twas the Year of Gig — 50 million locations (and counting)
Share Article: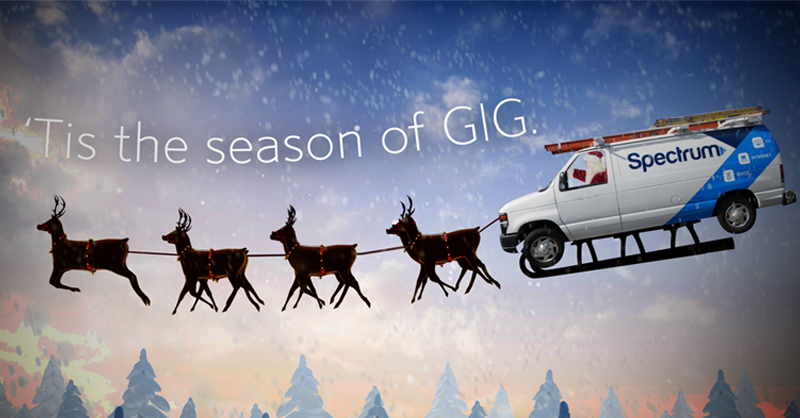 It's the most wonderful time of year for Spectrum Internet Gig* - which launched this December to another 1 million U.S. homes. This latest launch marks a major milestone of delivering gigabit connections across virtually our 41-state service area to 50 million locations and counting.
Since introducing Spectrum Internet Gig on Oahu late last November, Spectrum has offered gigabit connections to roughly 1 million homes and small and medium-sized business a week, on average, covering virtually all of our U.S. footprint. That's an accomplishment we're sure will bring value to our customers.
'Tis the Season of Faster Internet Speeds
Even if you're not a gigabit household yet (or you just think you're not), Spectrum has also changed the game for you in terms of internet speeds. Starting speeds of 100 Mbps are virtually everywhere we offer Spectrum Internet, with starting speeds of 200 Mbps in a growing number of cities. Spectrum Internet Ultra, with downloads of at least 400 Mbps, is available throughout virtually our entire footprint. Spectrum Internet Assist, bringing low-cost broadband for just $14.99** a month, is available to eligible families and seniors everywhere we serve.
Yet with such dramatic upgrades and speed increases, three constants remain: No modem fees. No data caps. No contracts.
Peace, Love & Gig in 2018
As the year comes to a close, check out how Spectrum Internet Gig rolled out to virtually our entire footprint in 2018:
For more information on Spectrum Internet click here.
*Maximum download speed of 940 Mbps. Speed may vary by location.
** plus taxes and fees