Community ImpactJune 15, 2016
Top Takeaways from National Rebuilding Day in Missouri
Share Article: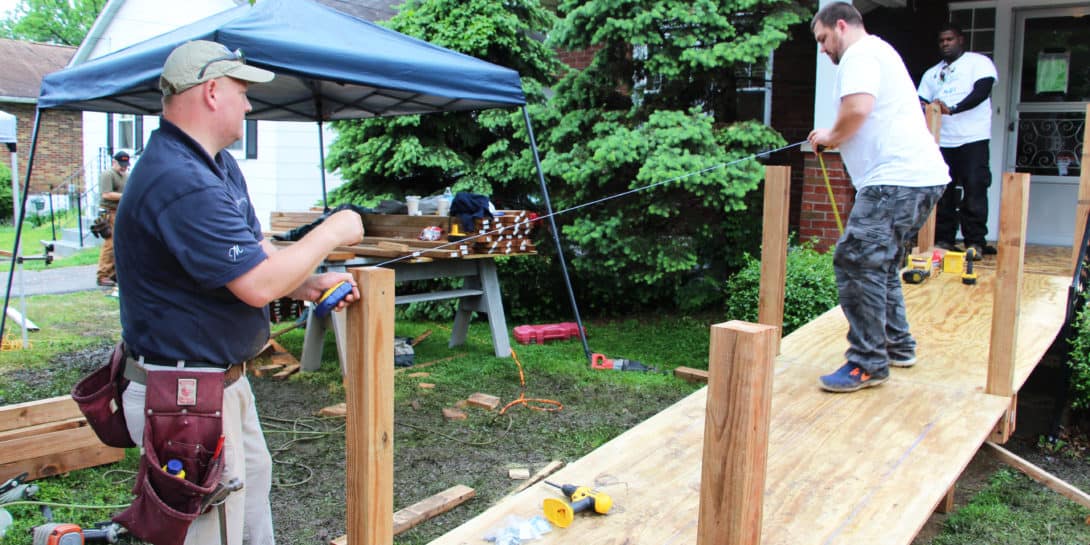 In April 2016, as part of our partner Rebuilding Together's National Rebuilding Day, more than 60 Charter our Community volunteers joined forces with Rebuilding Together of St. Louis, to renovate three homes in St. John, Missouri.
Paying It Forward for Friends of the Community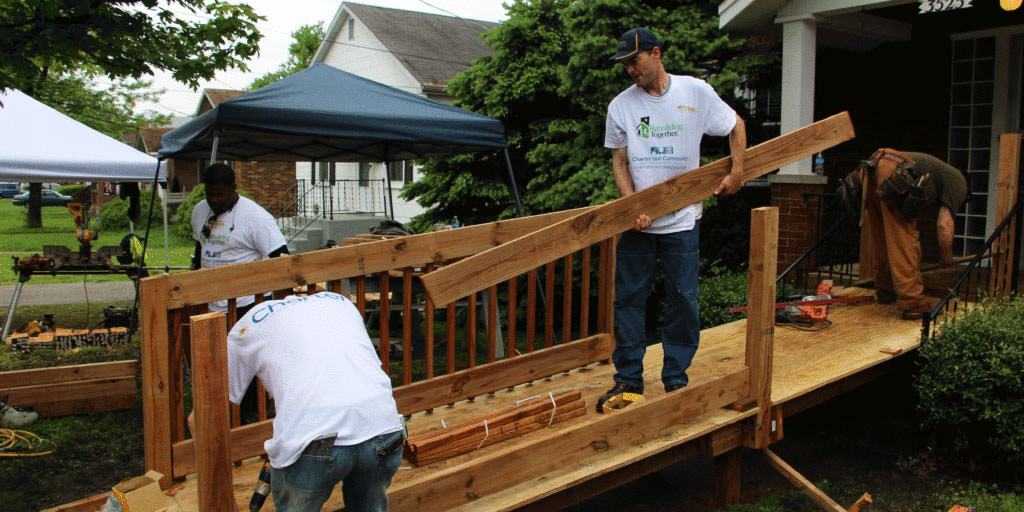 From left to right: Charter employees Shaun Swearengen, Matt Balestra (back to camera), and Justin Uhlemeyer build a ramp on National Rebuilding Day.
One house belonged to military veterans Kevin and Diane, who've devoted years to caring for their neighbors. Due to health issues, mobility is a concern for Kevin. To make life easier and safer, volunteers installed railing and safety bars in several areas around their home.
"It's all just so overwhelming," said Diane. "To see all these people come out in the pouring rain to help us. This is just incredible!"
Kevin and Diane are among several neighbors whom routinely visit Edith, across the street. Volunteers built a ramp at Edith's home to not only make it easier for her to get in and out, but to improve accessibility for the friends who help care for her.
Distributing Safe & Healthy Home Kits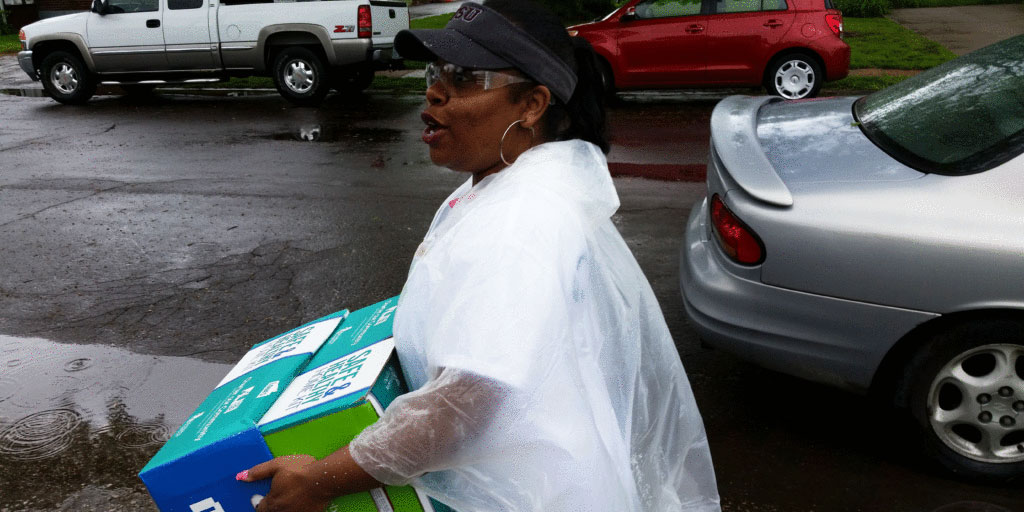 Charter's Crystal Bell distributes Safe & Healthy Home Kits on National Rebuilding Day.
As Charter our Community volunteers painted, landscaped, and cleaned, others took the time to go door to door distributing Safe & Healthy Home Kits. With the help of Lowe's and Rebuilding Together, the kits were developed to help homeowners with pressing safety and health concerns.
Complete with a first aid kit, weather alert radio, flashlight and battery, and much more, the kits are usable by just about anyone, no matter their skill level. For more on the contents and how to pick up a kit in your community, click here.
"These kits are the perfect complement to all the other neighbors here," explained Marsha, another neighbor. "Even though I don't have help today, [the kit] includes some valuable resources I can use myself. It's great to see the entire block benefiting from this event."
By the the end of the day, when the work was finished, the rain finally stopped. It's safe to say that volunteers and neighbors alike, left with a much sunnier outlook.