CorporateJune 24, 2016
"Take Your Child to Work Day" Showcases High-Tech Cable Careers
Share Article:
Charter 's Technology and Engineering Center (CTEC) in Denver, Colorado was the site of this year's "Take Your Child to Work Day" at Charter.
On April 28, more than 35 students got a behind the scenes look at the cable industry. Kids participated in hands-on computer coding sessions, presentations about cable technology and product demos from local vendors. The day also included breakfast, lunch and an ice-cream social.
An Idea That Brewed Over Coffee
Charter Engineering Manager, Gia Roe, started the "Take Your Child to Work Day" program at CTEC last year, after coming up with the idea over a cup of coffee with her sister. Roe's sister highlighted her own employer's success with "Take Your Child to Work Day" and it was that conversation that inspired Roe to start a similar program at Charter.
CTEC Is the Perfect Location for Kids (and Grown-Ups!)
When Charter recently opened CTEC, Roe knew it was the perfect spot to host the event. The facility is the national hub for Charter's advanced software engineering efforts. It houses more than 230 of the company's top technology minds. With its open layout, modern design and markable walls (yes, writing on walls is encouraged here!), the building is ideal to show off to future leaders. The nearly 100,000 square foot layour was designed to spark innovation and spearhead collaboration in the development of innovative and streamlined customer-facing technologies, such as the Spectrum TV app and Spectrum Guide, the company's new, cloud-based user interface.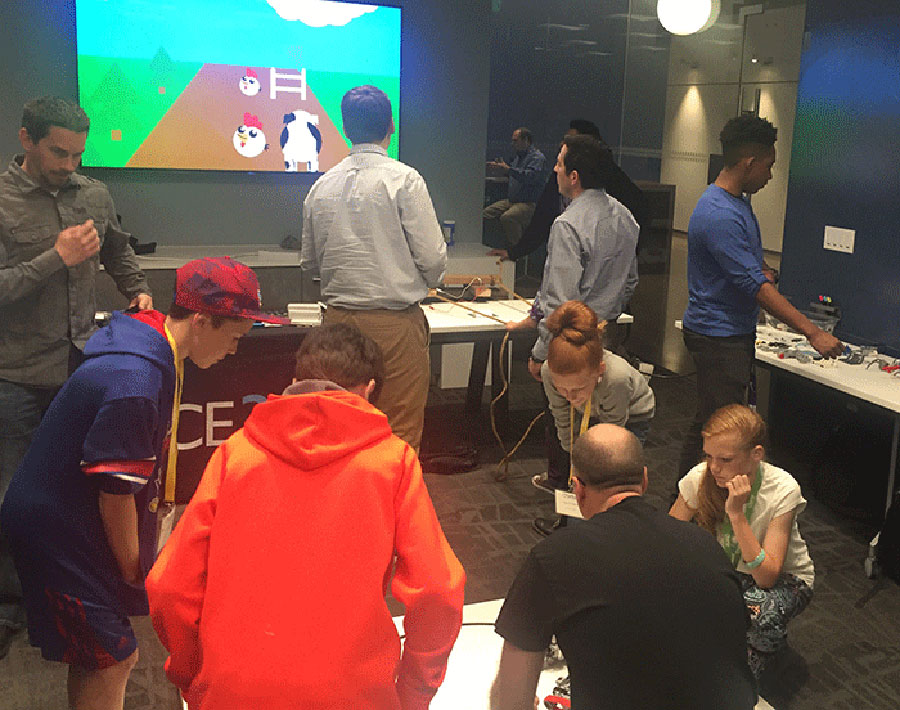 Children learned the science and technology behind video games and how to build their own robots.
Coding and Ice Cream
"Feedback from the program's first year was fantastic," said Roe. "We made sure students weren't watching their parents work behind a computer screen. We wanted the students to be engaged in hands-on learning activities that really reflected our careers. We wanted them to leave with the knowledge to explain to their friends how cable TV works... Because many parents helped develop the itinerary and present the sessions, we hit a home run with our ability to engage the students."
This year, many participants, including 12-year-old Anthony Kargoll and his nine-year-old sister, Faith, came back for more.
"My son Anthony really liked the building tour and thinks the data center is really cool. He was eager to return this year to learn more about coding," said Charter Engineering Director Robin Kargoll. "My daughter Faith liked the ice-cream social and meeting all the people that I work with. Like her brother, she was excited to learn how to do more scratch programming so she can use it with a new mini-robot she got for Christmas."
Roe says she's pleased this year's event delivered on the promise of engaging area youth in high-tech careers. She plans to raise the bar again next year to keep Charter's "Take Your Child to Work Day" event fresh and rewarding.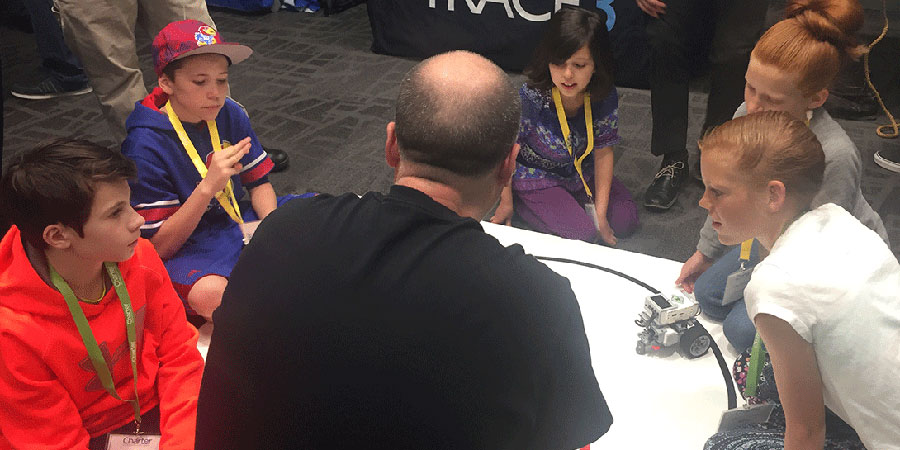 Kids learn to program robots to battle it out in the ring.
This article contains links to other websites for informational purposes only. These links do not imply endorsement by Charter Communications of the websites or their operators. Charter is not liable for the content of these linked websites.