SpectrumMay 5, 2017
Spectrum Reach Presents at NewFronts for Maximum Impact
Share Article:
Spectrum Reach presented at IAB NewFronts on Friday, for the first time since the company broadened into 41 states and nearly 100 markets. Its "Maximum Impact" production transformed the Edison Ballroom in New York City into a TV news set.
Spectrum Reach was the only cable operator to present during the 10-day marketplace, joining brands like Vice, CNN, PopSugar and Bloomberg Media.
NewFronts, the digital equivalent to TV's Upfronts, attracts media buyers and digital influencers for a glimpse at the upcoming plans of notable digital companies. It continues through May 12.
A Ballroom Transforms Into a TV News Set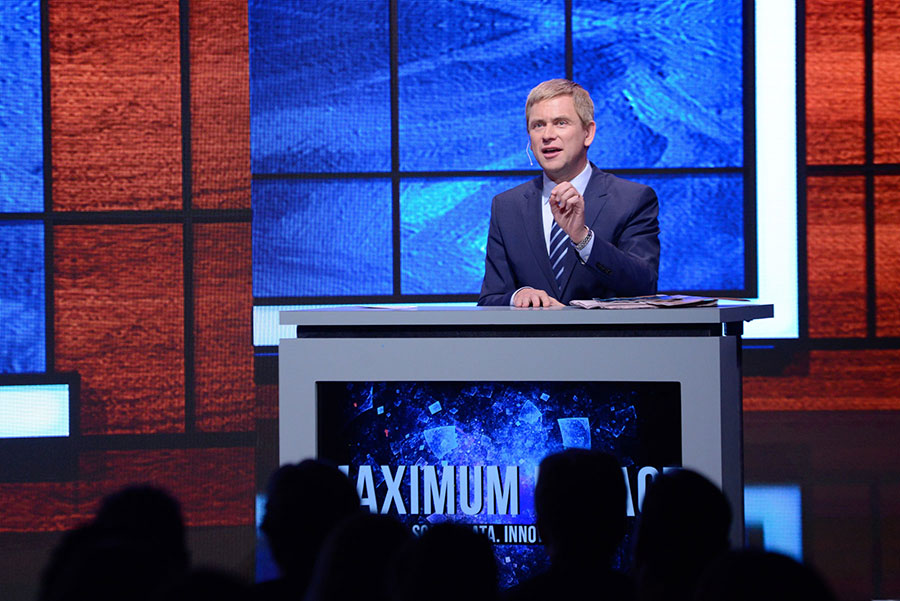 Pat Kiernan presents on stage at NewFronts.
NY1 morning anchor Pat Kiernan kicked off the presentation with his signature "In the Papers" segment on the ballroom stage. Pat was joined by an array of talent from NY1, News 13 Orlando, and Spectrum SportsNet to deliver a newscast delving into why television is still a powerful medium.
"TV is alive and well. There have been many stories in the media suggesting that TV is declining particularly among millennials. But we looked at the data a little more carefully," said Kiernan. "They are watching their shows on their phones. They are watching on their laptops. They are watching on their tablets. This is a story of perception versus reality. The reality is, people, including millennials, are watching a lot of TV."
NY1 traffic reporter Jamie Stelter, weekend evening anchor Cheryl Wills, News 13 Orlando anchor Ybeth Bruzual, and "Inside City Hall" host Errol Louis, all helped tell the story.
Spectrum SportsNet analyst James Worthy, an NBA Hall of Famer, closed out the newscast, reminding the audience of Spectrum's local news, sports, and lifestyle channels.
"This year you can look forward to a refreshed news brand that is unlike anything seen on cable television," said Worthy. "There is no better time to be a part of the Spectrum Networks family."
What is Maximum Impact?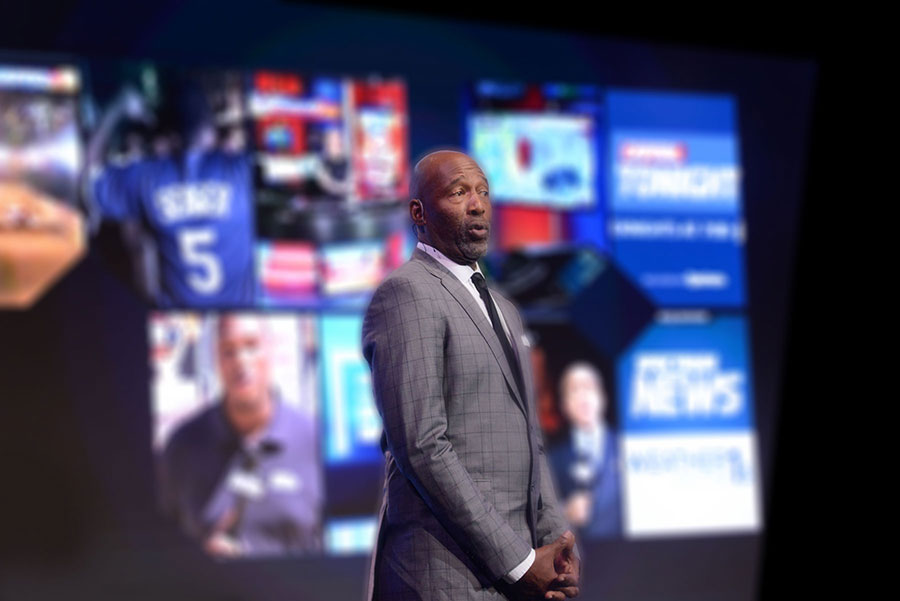 James Worthy speaks to a packed audience at NewFronts.
"Maximum Impact" explained David Kline, EVP of Charter Communications and President of Spectrum Reach, is the ability to offer multi-screen marketing solutions anchored in premium television programming to a base of 26 million households and nearly 100 markets.
The company is reinventing the ways audiences are targeted, he said. By combining advanced data-driven products, national scale, and unmatched local expertise, Spectrum Reach has a custom solution to help companies meet their advertising goals.
"I think what we've done is sort of combine the best of both worlds," said Kline. "The power of digital and the power of television, and it's all powered by our set-top box viewership data."
Spectrum Reach Uses Advanced Metrics and Expertise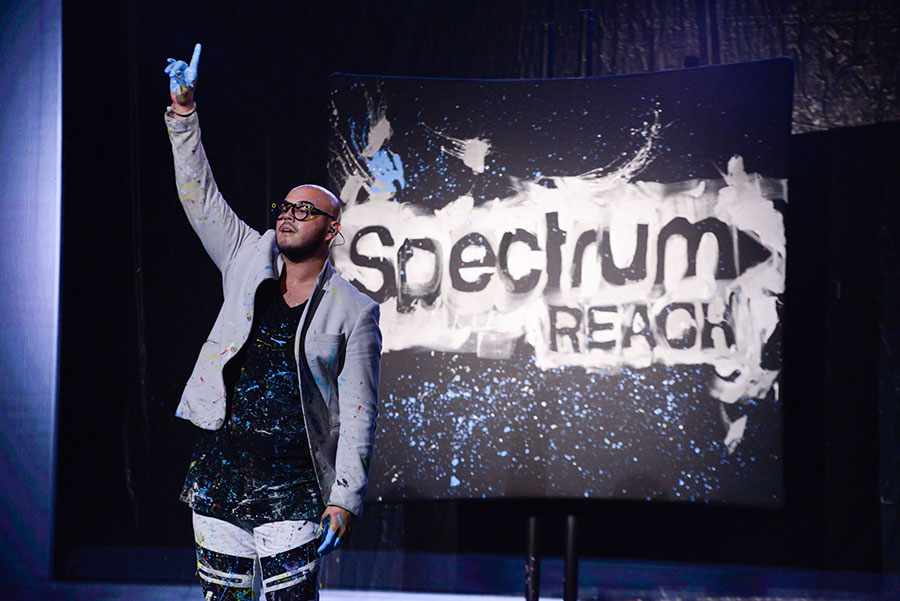 Performance artist David Garibaldi wows a crowd of media buyers and digital influencers at the Edison Ballroom in the heart of Times Square.
Here is a look at some of the advanced advertising products presented at NewFronts:
Spectrum Reach Audience App - This linear TV planning tool uses anonymized subscriber viewing data to allow marketers to target, with granular precision, specific customer attributes such as education level or car ownership information.
Spectrum Reach Digital Dashboard - A state-of-the-art planning and reporting tool, this gives advertisers one place to view their digital campaign.
Household Addressability - This allows advertisers to pinpoint very specific targets by household.
Ads Everywhere - This is a non-linear TV product that allows advertisers to insert ads into the Spectrum app, cable networks apps, Video On Demand apps and the set-top-box.
"You know where your spots are going to run," said Kline. "It's a very safe environment, but most importantly it's an effective environment."
To listen to a podcast on this subject, click here. To learn more, visit the Spectrum Reach website.