News and ViewsOctober 20, 2022
Spectrum News NY1 Celebrates 30 Years of Bringing Local News to New Yorkers
Share Article:
Thirty years ago this fall, NY1 first entered the homes – and hearts – of New Yorkers, establishing a relationship that has consistently delivered hyperlocal news in one of the nation's busiest cities. Since then, New Yorkers have increasingly counted on NY1 to deliver breaking news, political context, weather and deeper insights surrounding the events that impact their daily lives.
Veteran anchors Cheryl Wills and Lewis Dodley have been with the station since it launched on September 8, 1992. Wills, who began her career behind the camera as a writer, and Dodley, who has been at the anchor desk since day one, look back at three decades of serving New Yorkers.
Q: You've both been with Spectrum News NY1 since Day One. What do you remember about your first week?
Wills: I never imagined I would have the opportunity to help start a cable news network from scratch. It was fascinating to see all of the moving parts coming together – right down to the carpet on the floor. We were all starting together, a team of young, hungry journalists. It really was the opportunity of a lifetime, and we did it in New York City.
Dodley: From the beginning, there was a lot of anticipation for NY1's first day, but because we had rehearsed so much, my memories of that first week are surprisingly anti-climactic. It wasn't until the Crown Heights riots happened a week later that it set in. That's when we first started to separate ourselves from the other stations with our mobility and our hyper-local, 24-hour format.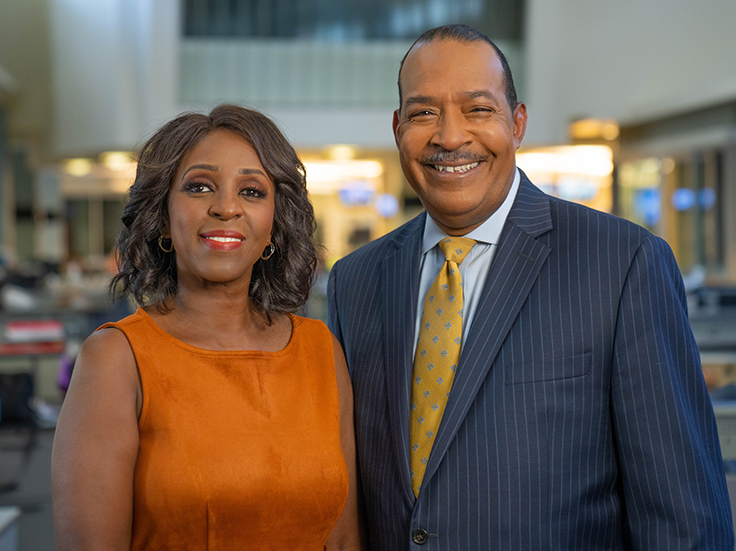 Q: NY1 is beloved by New Yorkers, and has been for 30 years. How would you explain NY1's enduring legacy?
Wills: NY1 does what no other local news station does: We are laser focused on New York City – the boroughs, the neighborhoods, and the people. And we're New Yorkers – by and large the majority of NY1 staff are dyed-in-the-wool New Yorkers like myself. I was born in Queens at Elmhurst Hospital. I went to PS 183, PS 225 and M.S.180. I grew up riding the subway. I grew up in public housing. My father was an FDNY fireman. I live what I report and cover every single day. That's NY1 – a New Yorker.
Dodley: It is because of the intensive way we cover the big stories and the sensitive way we cover smaller ones that we are so endeared by New Yorkers. It is clear that NY1 is there for them. The station was specifically designed for the busy, with "NY1 Minute" and "Weather on the Ones," and those who want a more in-depth look at news in their borough, and in their city.
Q: What's the biggest change you've seen at Spectrum News since you first started?
Wills: When we started 30 years ago, cell phones didn't exist. We had beepers. There was no such thing as GPS navigation; we had printed maps. We used to record all of our stories on beta tapes. Now everything is digital, we're a paperless and tapeless newsroom. Thirty years-ago, we carried nearly 50 pounds of equipment to shoot a story. Today, we can record and edit an entire news report using our iPhones. That's a big change.
Dodley: I agree, the technology is night and day: Going from 50 pounds of camera gear to a cell phone that weighs ounces – that's impressive. The graphics and sets have also evolved a lot since we launched and I would say they're world class. What's stayed the same is the drive to make NY1 one-of-a kind: journalists who put substance and connection over flash or sensationalism. That will never change.
Q: What is it about NY1 that has kept you with Spectrum News for 30 years?
Wills: What I love most about NY1 is that it has always been the place where you can try something new. You can give the people – our audience – what they want. You don't have to worry about anyone telling you, "We don't do it that way." Because we started doing it our way from the very start – and we've been able to adjust and change with the times. That has been an absolute pleasure. Thirty years later, I still love being surrounded by people who bring a sense of fearlessness and courage into everything they do.
We're all under one roof and we know each other by name. We're one team working together for the good of New York City. There's no other station like us in this great big city. I am very grateful that I was born in the right place at the right time to experience this incredible opportunity. I wouldn't change it for the world.
Dodley: NY1 is as 'New York' as TV news can be - and that's why we stay.
Learn more about Spectrum Networks here.