News and ViewsOctober 20, 2020
Spectrum News 1 Expansion in Texas Means More In-Depth Coverage
A Q&A with News Director Larissa Cartwright
Share Article:
​On October 16, Spectrum Networks introduced its innovative style of hyperlocal news to communities in Dallas-Fort Worth and the Southern and Western regions of Texas, expanding its coverage to reach customers across the Lone Star state. Since 1999, Spectrum News has been covering the Austin and San Antonio regions, and with the expansion will now have more than three dozen journalists embedded in the communities of Waco, Dallas-Ft. Worth, Wichita Falls, Harlingen, Corpus Christi, El Paso and the Rio Grande Valley to cover the stories that matter most to Texans.
Leading the charge in Texas is Larissa Cartwright, News Director for Spectrum News 1. A Texas native, she is excited about the expansion and said viewers across Texas can look forward to a shift from the "crime de jour stories" to Spectrum News' meaningful, objective and character-driven approach to news.
Q: What's driving this expansion?
Cartwright: It's the opportunity to strengthen communities and provide Texans with news that enables them to fully engage in the areas where they live and work. A Texas native myself, I know there is a need for news that focused on the stories happening deep within each unique community, as well as news and content that connects us all as proud Texans. With the expansion, we'll be able to super-serve viewers in more areas of the state with more community-based and character-driven content, thus providing news that's better suited for the unique needs and interests of Texans.
Across the state there are amazing stories to be told, and more news to cover. We have a unique opportunity to serve our communities with objective, hyperlocal news and content. From the Red River to the Rio Grande, our goal is to shine a light on the stories that unite Texans by being a part of the fabric of these communities so viewers can tune in at any time for news that is essential to their lives.
Q: Can you speak to the quality of the team you've put together?
Cartwright: We have the cream of the crop in Texas. All of our journalists have Texas roots, and many are working in their hometowns. It's a real point of differentiation for us – we're Texans covering Texas.
We've also added a few new faces to the anchor team, including Brett Shipp, a veteran journalist who grew up in Dallas-Fort Worth. His dad very famously worked for many years at WFAA in Dallas and Brett himself worked at WFAA for 22 years. He and Dr. Nicole Cross, who also is the host of In Focus Texas, will co-anchor the weekday evening news.
Charles Divins is also new to the team. He's a Dallas native and grew up playing Texas football. He knows Texans. He most recently was with a news station in New Orleans but was excited to return home. He'll be co-anchoring the morning news with Alex Stockwell, who is from Central Texas.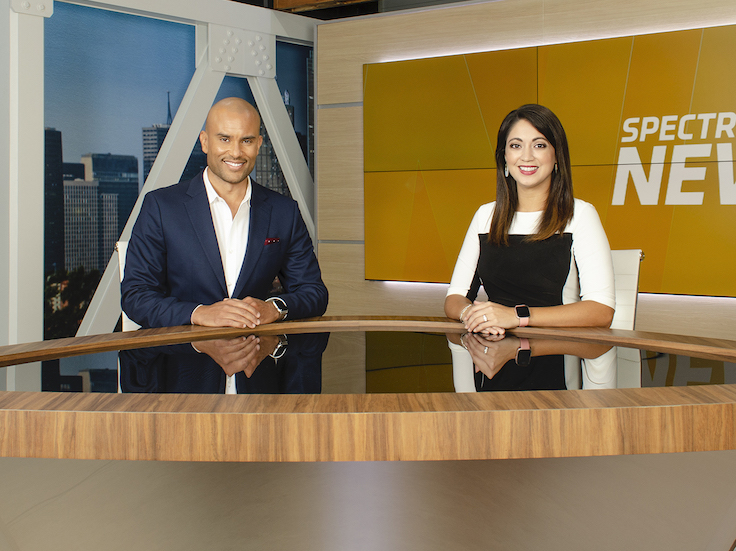 Q: Are the journalists curating these local stories on their own or are they assigned?
Cartwright: Because they are entrenched in these communities, our reporters will curate their own stories relevant to the communities they serve. We want our journalists to walk hand-in-hand with Texans in order to report on the issues that are authentic and true to what's happening in our communities and state. If we just report the issues without ever talking to the people who are impacted, it doesn't connect with viewers.
The important thing is that our reporters are making that special connection with the community. Our journalists do more than report on the news: they live, work and are actively engaged in the communities they serve. They are truly hyperlocal and also are community experts. All of our journalists are assigned to cover issues-based beats in their respective communities including, social justice, environment, business and education. This is in addition to our in-depth coverage of politics, general news, weather, and sports.
Ultimately, our value is that we are not chasing news. We are telling people's stories - and we have a boots-on-the-ground approach in the community.
Q: What might viewers in these expanded markets see in their Spectrum News 1 coverage?
Cartwright: We are about proactive versus reactive news gathering. So instead of only seeing a bunch of breaking news or headline after headline, we look for perspective and context. Viewers will see longer-form storytelling that will provide a more in-depth and connective experience.
Curating content that is local, unique and discrete to our viewers is what we do, and with the expansion we'll be able to reach and engage viewers where others cannot. We will deliver news and original programming focused on the various needs and issues that unite all Texans, as well as the hyperlocal, boots-on-the-ground reporting that binds our communities. Whether its community news, political and public affairs programming, or issues-based content, our focus is to cover the news and issues that matter to Texans.
Learn more about the expansion here and all about Spectrum Networks here.
​