SpectrumApril 25, 2018
Spectrum Internet Gig Rollout Nears 23 Million Homes
Share Article:
In hundreds of U.S. communities - including Los Angeles, Dallas and Milwaukee - people in 14 million more homes awoke today to a brand new option for dramatically faster broadband speeds with Spectrum Internet Gig.
Spectrum has now rolled out gigabit connections featuring DOCSIS 3.1 internet services to approximately 23 million U.S. homes, with plans to span this service to virtually the entire 41-state footprint in 2018.*
"Spectrum's state-of-the-art, fiber-rich network allows us to deploy dramatically faster broadband speeds, including gigabit connections, broadly and rapidly," said Tom Rutledge, our Chairman and CEO. "As consumer demands for bandwidth and capacity grow, our world-class network is best-positioned to meet these demands, today and into the future."
Faster Speeds For All Of Your Devices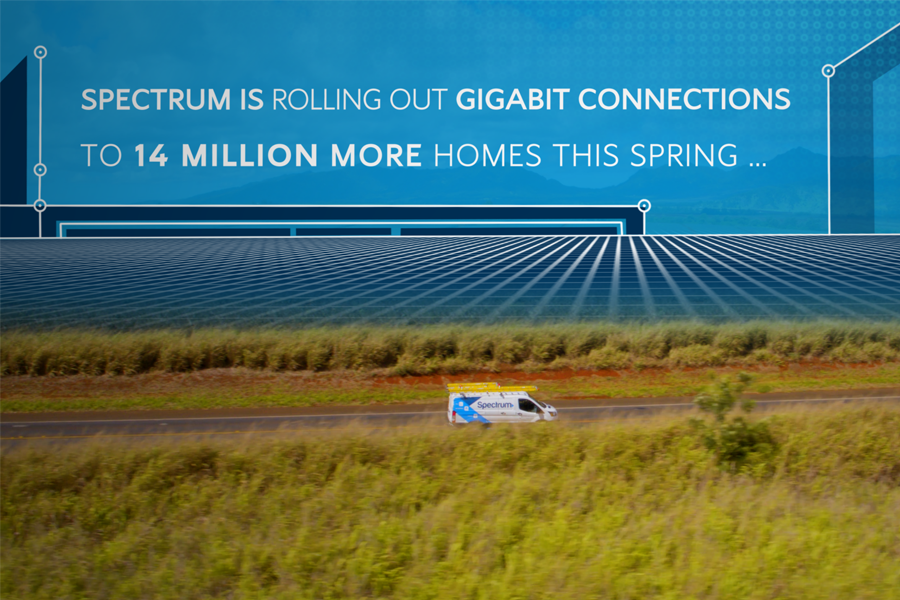 From San Diego to Syracuse and from Wilmington to Waco - Spectrum has now made gigabit connections available to approximately 23 million home.
Our customers connect with some 250 million devices to the Spectrum network. Before long, it will be a billion devices - streaming video, gaming, using social media, listening to music, managing home automation, you name it.
Those devices can now benefit from a blazing-fast gigabit connection. Overall, Spectrum Internet Gig is now available to almost half of all the homes where Spectrum Internet is sold.
We started rolling out gig connections featuring DOCSIS 3.1 internet services in 2017, and made gig available in eight markets by the end of the year.
We Also Increased Starting Speeds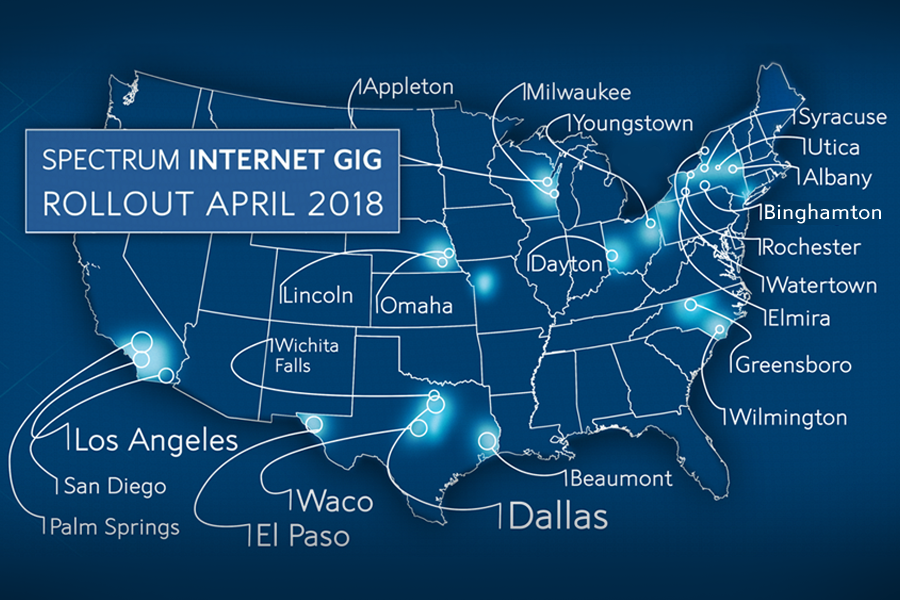 Spectrum has plans to offer gigabit connections to virtually the entire footprint by the end of 2018.
While you slept Tuesday night, Spectrum also boosted the starting speed of Spectrum Internet to 100 Mbps in more than 130 additional communities. That means thousands of current Spectrum Internet customers automatically saw their speeds increase by 66 percent or more (some even tripled), with no change in price.
Today, the starting speed of Spectrum Internet is at least 100 Mbps in more than 99 percent of the communities we proudly serve.
For more information on Spectrum Internet click here.
*Maximum download speed of 940 Mbps. Speed may vary by location.