SpectrumOctober 10, 2018
Spectrum Internet Gig is Driving to the End Zone
Share Article:
It's the fourth quarter. "Crunch time" in the language of football clichés. And it's definitely crunch time here this fall, as we are driving toward our goal of bringing Spectrum Internet Gig* to virtually all of our 41-state service area by the end of the year.
This week, we've made a huge gain on our final drive, launching Spectrum Internet Gig to nearly 12 million more U.S. homes. Gigabit connections are now available in dozens of additional markets across the U.S. in St. Louis; Columbus, Ohio; Fort Worth, Texas; Greenville-Spartanburg, S.C.; Louisville, Ky.; and many more. Consumers can now access the speeds to deliver a great experience across all their connected devices at home. And small and medium-sized business owners can leverage the bandwidth they need to serve customers, keep growing and power their local economies with Spectrum Business Internet Gig.
Get Into the Gig Game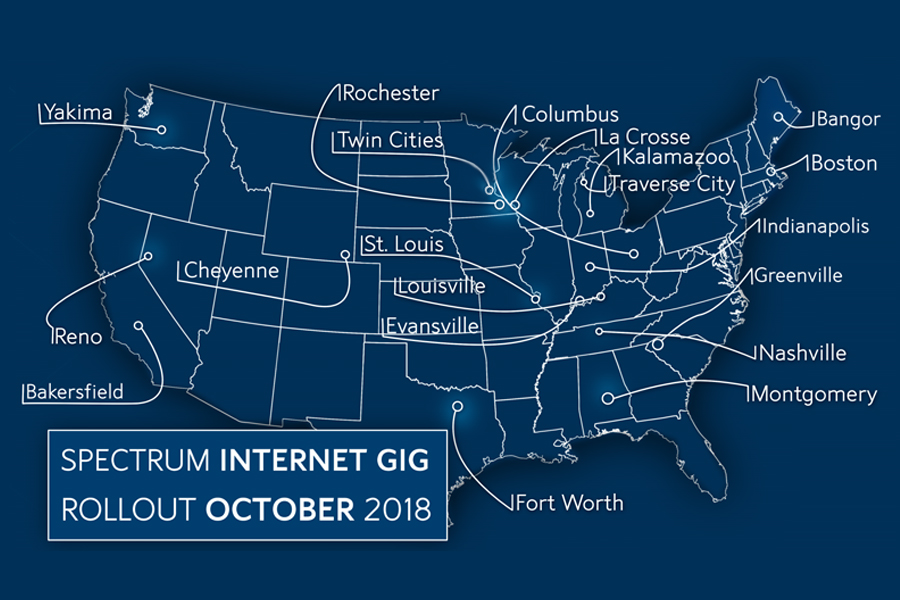 Nearly 12 million more U.S. homes can "Get into the Gig Game" with Spectrum Internet Gig this week.
Overall, these lightning-fast speeds are now available to well over 95 percent of the U.S. homes where Spectrum Internet is available. If your community doesn't have Spectrum Internet Gig yet, the final gun hasn't sounded. We'll announce more gigabit markets before the end of the year, featuring DOCSIS 3.1 internet services.
Read more about the significant forward progress our gig story has made this year.
For more information on Spectrum Internet click here.
*Maximum download speed of 940 Mbps. Speed may vary by location.