Press ReleaseApril 10, 2020
Spectrum Enterprise Delivers TV Services to USNS Mercy in Los Angeles and USNS Comfort in New York
Share Article:
LOS ANGELES AND NEW YORK CITY – Charter Communications, Inc. announced today that its Spectrum Enterprise unit is delivering TV services to the USNS Mercy docked in Los Angeles and the USNS Comfort docked in Manhattan to help patients and medical personnel stay informed and relieve stress while onboard.
"Our teams in New York and Los Angeles — which include veterans of the U.S. Armed Forces — are proud to respond to the needs of the U.S. Navy, delivering services to the staff and patients on board the USNS Comfort and Mercy," said Bill Archer, President of Spectrum Enterprise. "During these unprecedented times, we are accelerating our response to urgent demands for installations and upgrades of mission-critical services to help our government and healthcare clients address the crisis. We are streamlining our operational processes and are completing client service requests in hours and days."
USNS Mercy in Los Angeles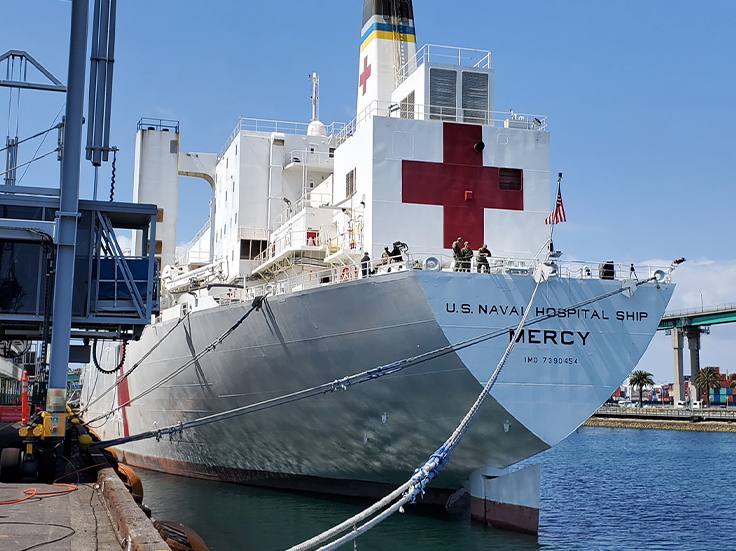 To help the U.S. Navy's efforts in Los Angeles, Spectrum Enterprise installed Fiber Connect Plus, a fiber-delivered video service offering a robust channel lineup that includes news coverage in multiple languages and entertainment programming to 200 TVs used by patients and crew. Fiber Connect Plus TV simplifies installation and management by utilizing existing wiring on board, and does not require a set-top box or other equipment for each TV.
The USNS Mercy is being specially deployed to assist with the COVID-19 response. Typically used to provide humanitarian assistance and disaster relief, the Mercy will provide 1,000 extra beds and about 1,000 medical personnel as a backup hospital for patients needing critical medical services not associated with COVID-19, allowing Los Angeles health professionals and area hospitals to focus on treating patients affected by the virus.
The Spectrum Enterprise team moved from design to installation in just four days for the USNS Mercy. Within hours of an initial discussion with the Navy, Spectrum Enterprise teams were on site and ultimately constructed more than half a mile of additional fiber-optic cable and completed installation, testing and activation.
USNS Comfort in New York City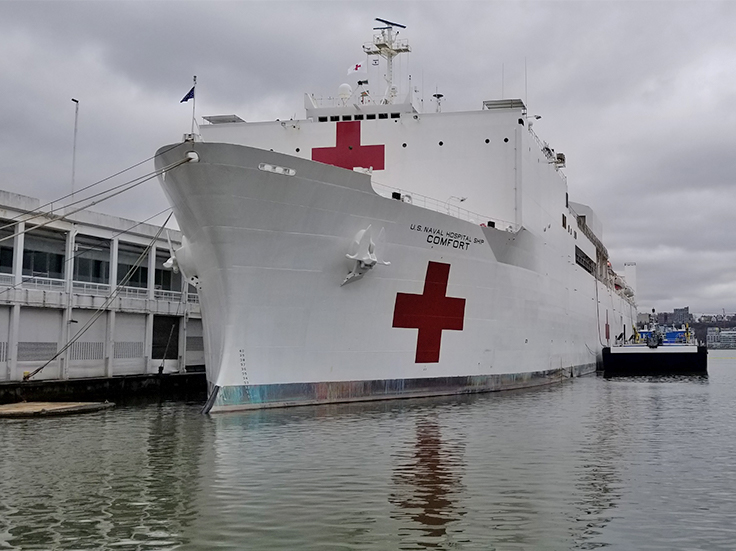 In New York City, a Spectrum Enterprise team has delivered more than 250 TV and other video connections for the Comfort's crew and patients, building a custom solution that fits the ship's unique technology needs and scale in just three days. These TV services are delivered using critical connections at Spectrum's network hubs in Manhattan.
For its mission in New York City, the Navy floating hospital ship has 500 beds, 12 operating rooms, an intensive care unit, radiology services and other facilities found in land-based hospitals. The Comfort will be treating patients with the COVID-19 virus.
Even as the Comfort was en route from Norfolk, Va., to New York, the Spectrum Enterprise team engaged the Navy to identify needed technical specifications and staged vital technical components. A five-person technical team completed the installation, testing and activation within hours of the ship's docking.
About Charter
Charter Communications, Inc. (NASDAQ:CHTR) is a leading broadband connectivity company and cable operator serving nearly 30 million customers in 41 states through its Spectrum brand. Over an advanced communications network, the company offers a full range of state-of-the-art residential and business services including Spectrum Internet®, TV, Mobile and Voice.
For small and medium-sized companies, Spectrum Business® delivers the same suite of broadband products and services coupled with special features and applications to enhance productivity, while for larger businesses and government entities, Spectrum Enterprise provides highly customized, fiber-based solutions. Spectrum Reach® delivers tailored advertising and production for the modern media landscape. The company also distributes award-winning news coverage, sports and high-quality original programming to its customers through Spectrum Networks and Spectrum Originals. More information about Charter can be found at corporate.charter.com.
Media Contact (NYC)
John Bonomo
212-598-3413
Media Contact (Los Angeles)
Dennis Johnson
310-647-6607