SpectrumJune 29, 2017
Spectrum Celebrates Bilingual Call Center with Open House
Share Article:
Spectrum hosted an open house at its new call center in McAllen, Texas today, opening the doors to local leaders and executives from Charter Communications to celebrate the successful hiring of 250 Spanish-speaking customer service representatives.
In just a few short months since Chairman and CEO Tom Rutledge announced the opening of our first Spanish-language call center, 250 bilingual representatives are hard at work. The call center will create 600 U.S. jobs by early 2018.
"We're here to celebrate choosing McAllen as the perfect location for this center, hiring 600 local employees, and serving customers from all over America," said Anabel Chavez, Vice President of the new Spectrum call center. "The truth is we build our business by delivering great service, one call — and one customer — at a time. It was an amazing moment when we took the very first customer call, in Spanish, here in McAllen."
The Very First Call
Ismena Iruegas took the first call at the McAllen call center: "I just went for it. Whatever it took to resolve my customer's issue. I was glad I was able to help her."
Ismena Iruegas knew something special was about to happen when she settled into her work station on the morning of April 24. Balloons adorned the area around her, and colleagues were snapping photographs.
She had been in her position for three weeks. The first wave of customer care agents had been trained, and the gleaming facility was ready to become operational.
"I punched in, but I didn't think the first call would come to me," said Iruegas. "I saw my leaders walking around me a lot. Then, I heard the beep."
Cameras flashed as Ismena answered the line for the center's very first customer service call. She solved the customer's problem with poise and professionalism.
The First Employee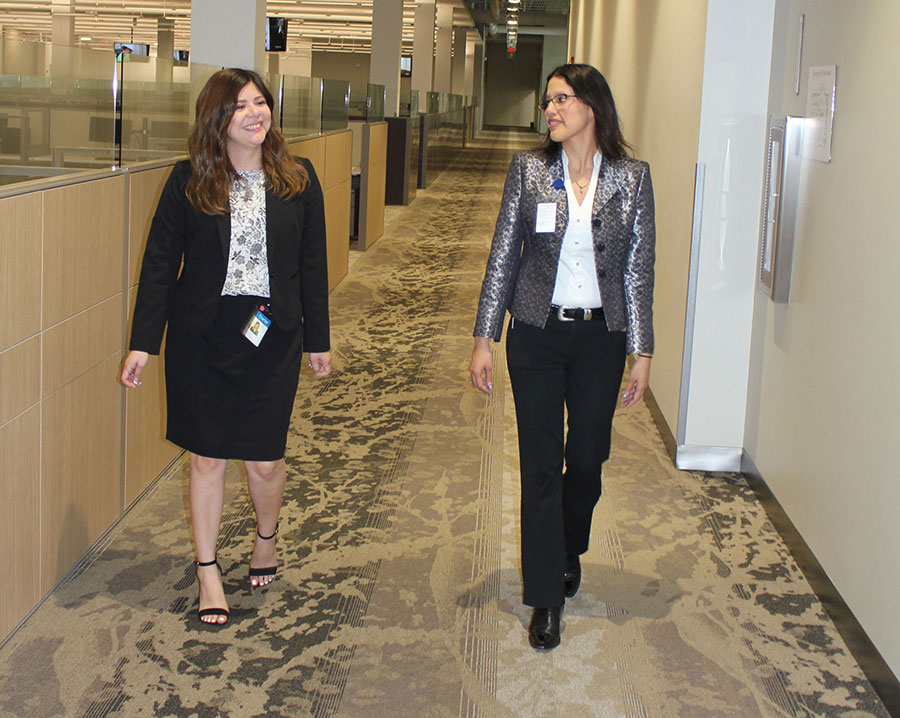 Recruiter Aimeé Elizondo, left, and Anabel Chavez, Vice President of the new McAllen call center, are assembling an all-star team of bilingual customer care professionals. "I see a lot of people going the extra mile," said Elizondo.
Spectrum Customer Care recruiter Aimeé Elizondo was the very first employee hired at the McAllen call center. She has been tasked with recruiting more than 600 new employees to fill the center's seats.
The newly renovated facility and state-of-the-art technology has set Spectrum apart from other call centers in South Texas, she said.
"Everyone has been so excited and so proud to be a part of this brand new call center," said Elizondo. "A lot of the new recruits are coming to Spectrum from other call centers in the area. A lot of them are telling their friends to come over. They are helping with the recruitment process because they are so happy with this call center."
Representatives are currently handling service calls in Spanish for Spectrum TV™ service, and will eventually take service calls from Spectrum Internet™ and Spectrum Voice™ customers, as well as billing questions.
Insourcing American Jobs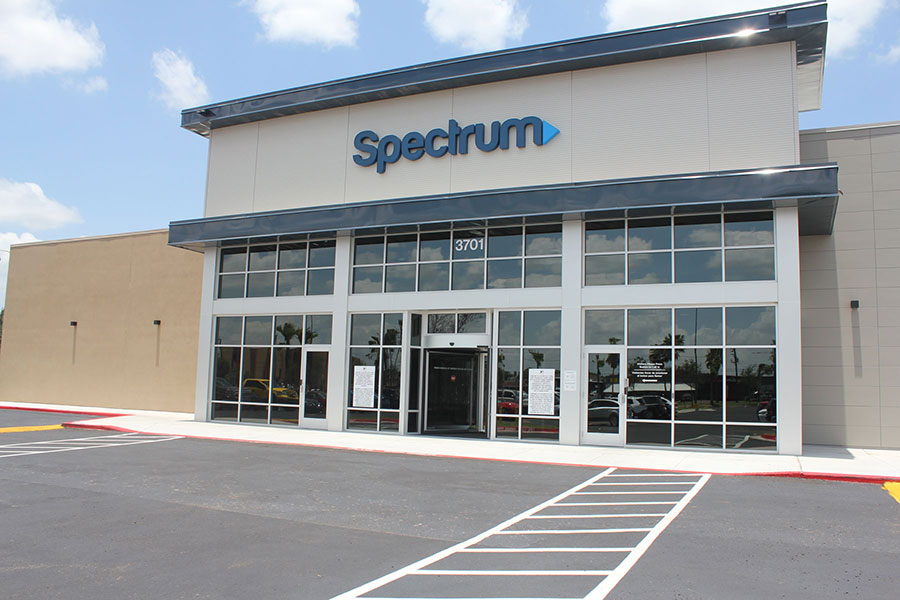 John Bickham, President and Chief Operating Officer at Charter, was on hand to celebrate the open house. "We chose McAllen for this call center because we knew there was an outstanding bilingual workforce in waiting here in the Rio Grande Valley. Our hiring has validated that research at every turn," he said.
The new jobs in McAllen are part of Charter's plan to hire 20,000 employees — the vast majority serving customers directly — by returning former call center jobs to the U.S., insourcing and growing to meet customer demand for its services. Many Spanish-speaking customers had usually been served by call centers outside the U.S.
"It takes a lot of communication to make great business happen and the McAllen Spectrum call center exemplifies great communication and strong teamwork from all entities involved," said City of McAllen Mayor Jim Darling.
The McAllen call center opened this spring, following a complete remodeling of a nearly 95,000-square-foot former retail store.
Watch a previously published video of the McAllen, Texas call center here, and apply for a job by clicking here.