SpectrumNovember 15, 2016
Newly Branded Spectrum Trucks and Vans Hitting the Road
Share Article:
Outside a hangar-like tent behind Charter's field operations center in Portland, Maine, sits a line of trucks and vans.
Here, the rubber literally hits the road in our transition to our Spectrum brand of products and services. In assembly line fashion, workers strip old Time Warner Cable decals off while a team in the tent applies the distinctive Spectrum blue ribbon and lettering to the vehicles.
In Northern New England, the process occurs more than a dozen times a day and will continue until more than 450 local vehicles are rebranded to Spectrum.
Techs Like the Trucks' New Look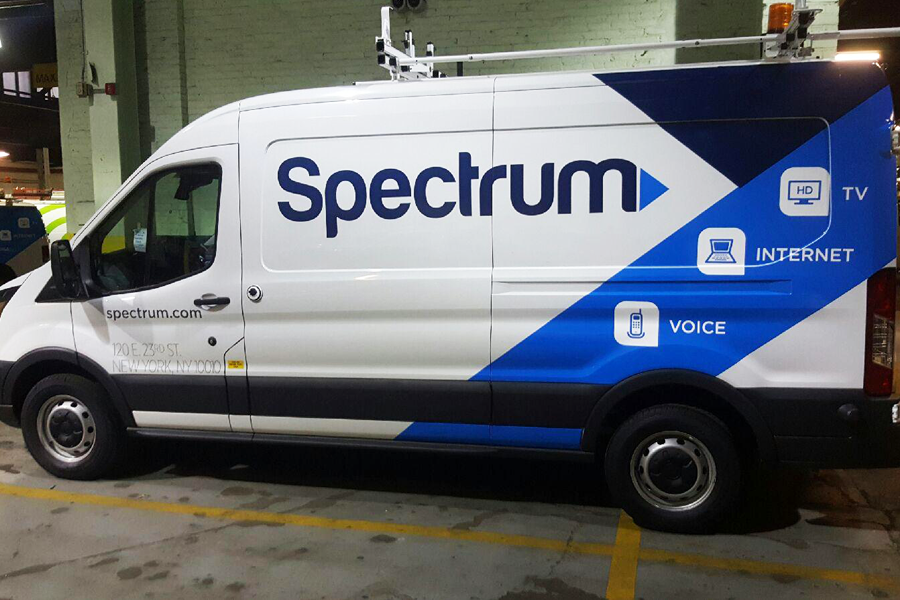 Across the country, thousands of trucks are being rebranded with the Spectrum logo.
"The technicians like the new logo and feel the fleet looks good and refreshed with the new branding," says Michael Drummey, Director of Field Operations for Southern Maine. "We're excited for customers to see our new look."
Over 19,000 vehicles are being rebranded as Charter transitions to Spectrum following its historic transactions with Time Warner Cable and Bright House Networks. The process began in Texas, Southern California and New York City, and by early October had spread to Wisconsin, Northern Ohio and the Northeast. Eventually vehicle rebranding will reach 20 locations.
New Decals Must Be Applied at Just the Right Temperature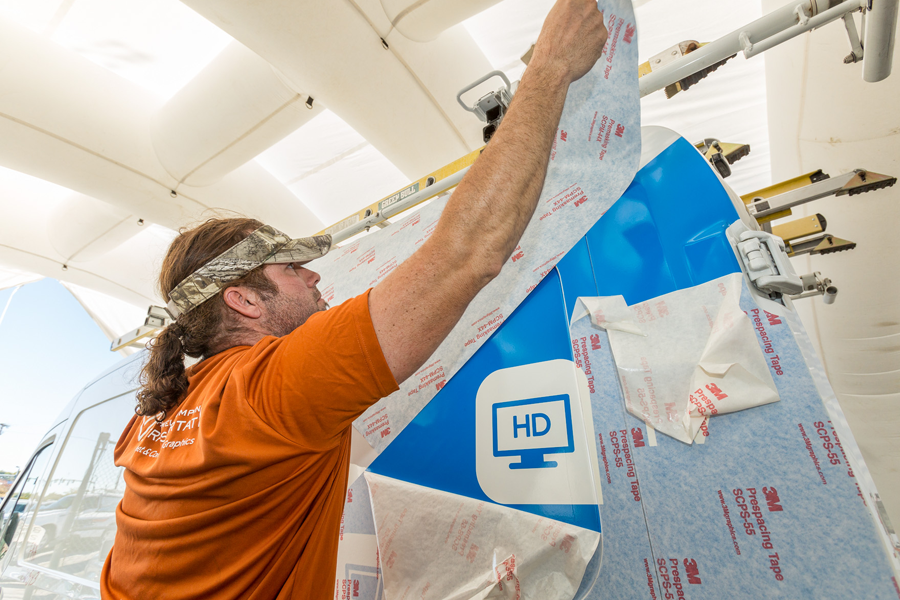 The outside temperature needs to be at least 55 degrees for the Spectrum decals to adhere correctly to the trucks and vans.
It's a huge logistical undertaking involving timing, local operations and Mother Nature, says George Survant, Senior Director of Fleet Maintenance, who manages the fleet rebranding initiative nationally. Weather is a factor because the outside temperature needs to be at least 55 degrees for the decals to adhere correctly.
The vehicle branding team coordinates closely with local field operations at each location. "The centerpiece of this project is to move quickly and efficiently without disrupting our essential customer service," Survant says.
The Spectrum Logo Defined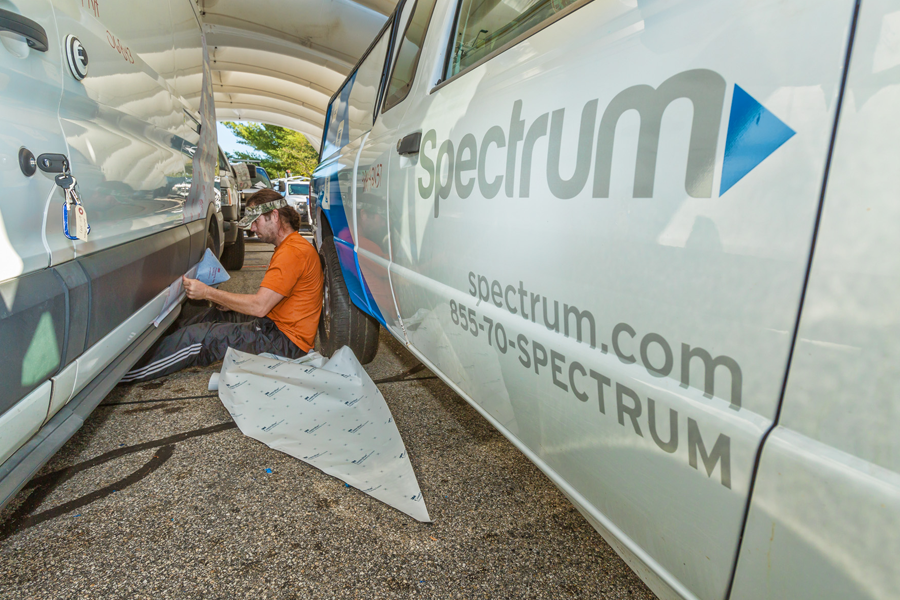 The Spectrum truck rebranding process began in Texas, Southern California and New York City.
The new Spectrum logo is short, easy to understand and has inherent meaning. The blue ribbon is known as a large ribbon wrap. The forward symbol reflects Charter's forward-thinking company and culture, and helps tie the overall design together, explains Kate Rozen, Senior Director of Brand Strategy, who is helping to lead the effort.
"We kept the fleet brand clean and simple as it's our on-the-ground representation of the Spectrum brand," Rozen says.
Nor is the symbolism of the change lost on employees and customers in markets like Portland, where the newly branded vehicles are the most visible sign to date of the exciting changes to come with Spectrum. "This is the first sign that we're all becoming one large team," Survant says. "I don't think the power and the impact of that can be understated right now."
Be sure to watch the video above to see the rebranding in action!