Community ImpactMarch 9, 2016
Michigan Employees Collect Water for Flint Residents
Share Article:
While Charter doesn't have any customers in the Flint, Michigan area, many of our employees live there - or know people who do. So when the recent water crisis hit, Charter employees stepped up to help.
Employees in Charter offices surrounding Flint, including Bay City, Davison, Saginaw and Zilwaukee, held water collection drives. Employees could donate bottled water or could contribute money toward the purchase of water. Combined, these Michigan offices donated more than eight pallets (72 cases each) of water.
Charter's Call Center in Walker, Michigan also ran a water drive. Clyde Swain, Call Center Vice President and his team established a goal to collect 500 gallons. They surpassed their goal by 600%, collecting more than 3,000 gallons.
In total, the collective efforts of Charter's Michigan employees provided nearly 5,500 gallons of clean drinking water to those in need in the city of Flint.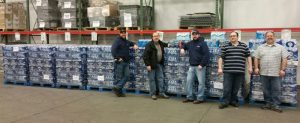 (L-R) Charter employees Brody Steih, Mary Dahl, Rich LesPerance, Carl Oldenburg and Tim Carollo pose next to more than eight pallets of drinking water donated by Charter Michigan employees