SpectrumJune 23, 2018
It's the Summer of Gig: Now Launching to 4 Million More Homes
Share Article:
We're doing our best to make this summer, the summer of gig. We've launched Spectrum Internet Gig to an additional four million-plus homes. These new launches cover more than a dozen new markets, including Cleveland; Erie, Pennsylvania; Orlando, Florida; and Toledo, Ohio.
Overall, Spectrum Internet Gig is now offered to more than 27 million homes. That's more than halfway to our goal of making gigabit connections available to virtually our entire 41-state footprint. By Labor Day, we'll be rolling out to even more cities to get closer to that year end goal.
Check out our updated map below for an overview of some newly launched markets.
Coming to a City Near You: Spectrum Internet Gig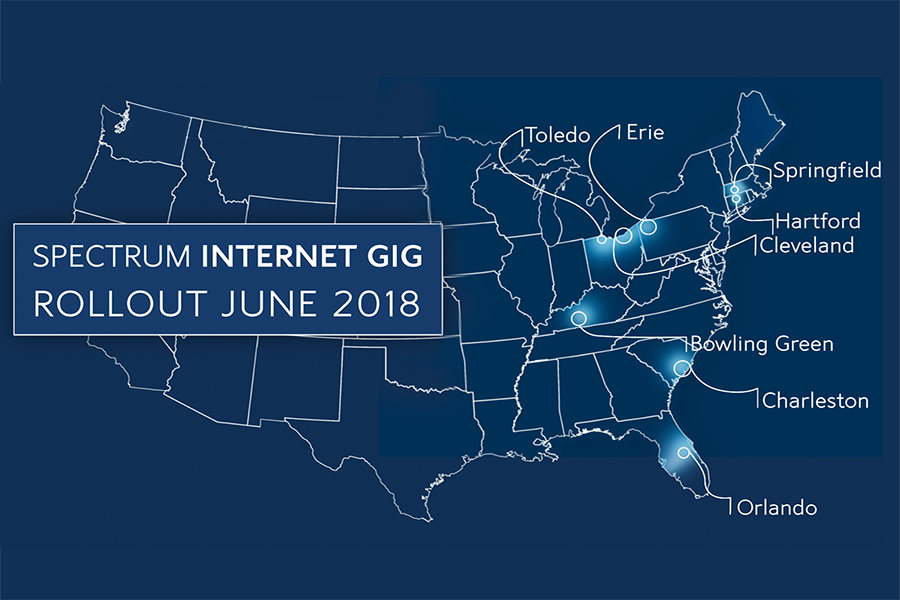 We're rolling out access to gigabit connections to four million more homes this June.
Introducing Gig for Small and Medium-Sized Businesses
We've offered gigabit speeds to large enterprises for years. Now small and medium-sized firms can get Spectrum Business Internet Gig in every market where gig is available to residential consumers.
Spectrum Business Internet Gig delivers the bandwidth and capacity businesses need to power their work — and by extension, the local economy. But it also means more value for entrepreneurs and small companies, with features like WiFi for lobbies and customer waiting areas, custom domain and email addresses, and cloud backup and security software. All these features are included at no additional charge, with no contracts or hidden fees.
Don't have Spectrum Internet Gig in your Spectrum community yet? It probably won't be long: we're on track to deliver the service across virtually our entire 41-state footprint by the end of 2018.
For more information on Spectrum Internet click here.
*Maximum download speed of 940 Mbps. Speed may vary by location.