Community ImpactSeptember 23, 2016
Helping a Widow and Double Amputee in Massachusetts
Share Article:
This spring, we kicked off our second round of Charter our Community events in Worcester, Massachusetts. Thirty-five Charter employees, in conjunction with the local affiliate of our national partner Rebuilding Together, joined forces to help make a difference in the lives of two local homeowners.
Making Life Easier for a Double Amputee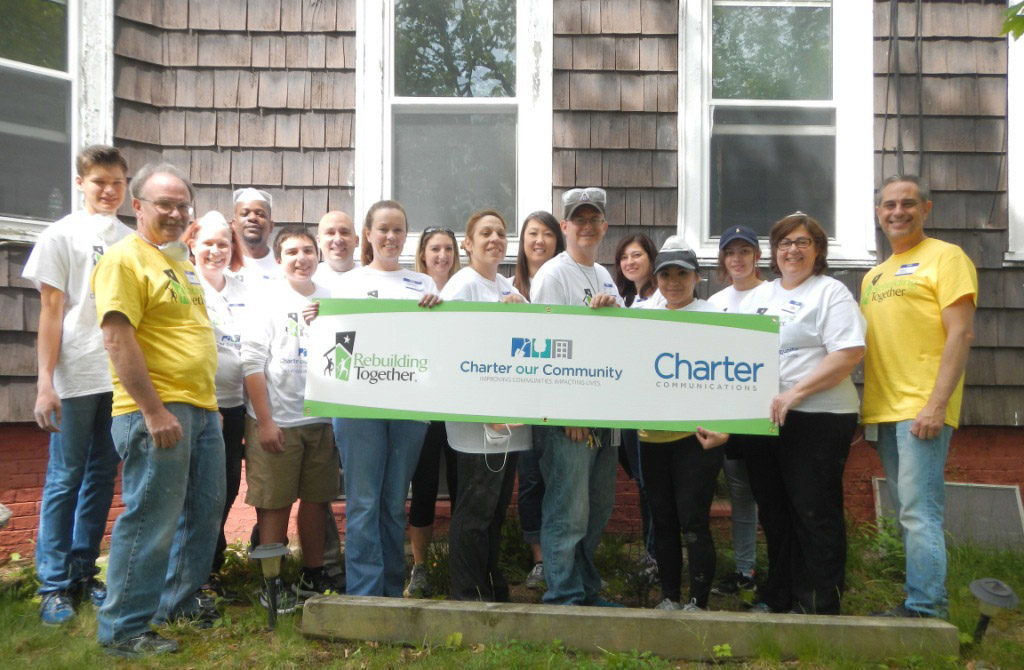 Charter Communications volunteers stand in front of a home they renovated in Worcester, Massachusetts.
At Frank and Cora's home, Charter volunteers worked to restore the first floor to make it more suitable to his needs as a double amputee. The goal was to relocate the couple downstairs, while providing Frank with more ease and flexibility to enter and exit his house.
Previously Frank felt trapped. "Our house was always a sound piece of property, until I had the issues with my legs, where I could no longer keep up with projects… We needed the help and we are so thankful to Charter," he said. Frank's wife, Cora, added, "I want to thank Charter for all the work they have performed today to help make our lives much easier."
Rebuilding a Deck for a Massachusetts Widow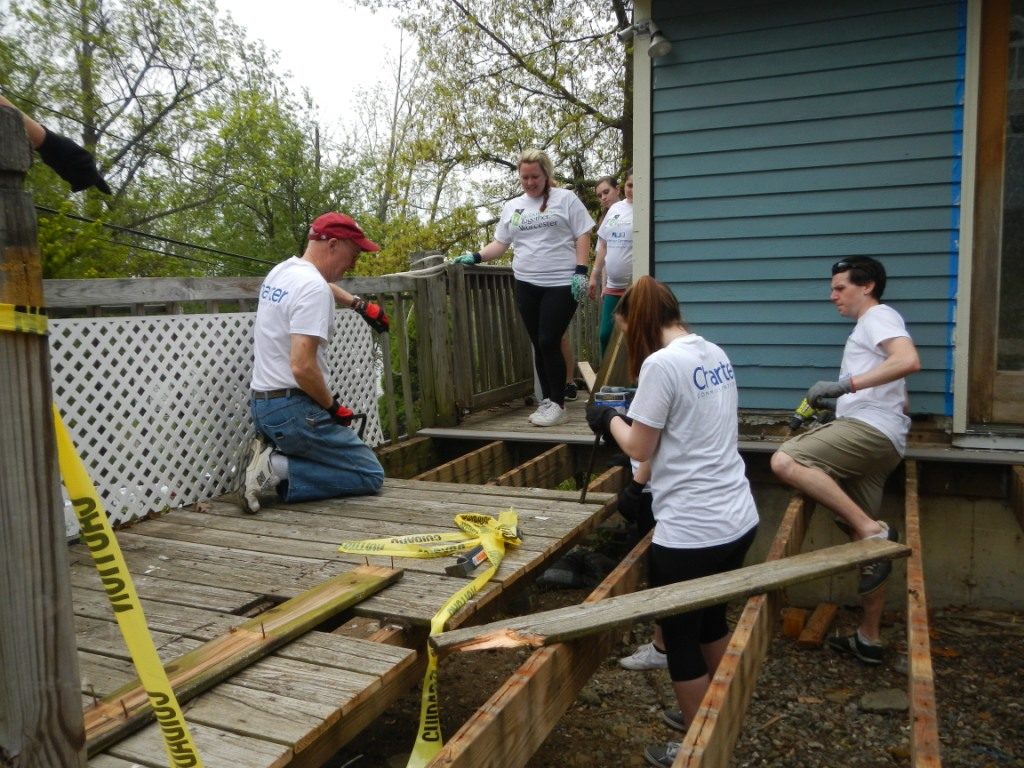 Charter our Community volunteers rebuild a deck in Worcester.
Nearby, volunteers also rebuilt homeowner Nancy's deck. Nancy is twice widowed with health issues, and feels blessed to be able to sit outside again. "To my surprise I got a call from Rebuilding Together that my house was selected. It was a miracle… I needed the help, and believe me Charter helped," Nancy said.
The Worcester event not only had a positive impact on the lives of the two homeowners, but many volunteers felt it was an uplifting experience. "I am proud of the Charter volunteers who took time away from their families [on a Saturday] to help these homeowners, providing an experience they will never forget," said Greg Garabedian, Area Vice President of Operations in New England.
Helping the Community in Worcester
By the end of the day, volunteers performed even more critical home repairs and enhancements including, interior and exterior painting, putting down a kitchen and closet floor, installing new light fixtures and landscaping.
"It was a pleasure working side by side with my Charter colleagues to help make a difference in the lives of two very special homeowners in need," said event coordinator and Senior Manager, Field Communications Heidi Vandenbrouck. "When you do good things for others, you provide hope and make the world a better place."
Be sure to watch the video above to hear more about Frank, Cora and Nancy and the effort to rebuild their homes.