SpectrumFebruary 9, 2016
Charter Spectrum Store Opens in Lakeville, Minnesota
Share Article:
Charter has just opened a new store in Lakeville, Minnesota. The location - on Glasgow Avenue - is bigger and offers customers a more convenient experience. Here's some more info and a look at the store: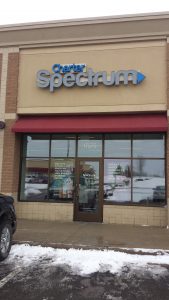 The new Lakeville, Minnesota Charter Spectrum store
LAKEVILLE, Minnesota –Charter Communications' (NASDAQ: CHTR) Rosemount retail store at 16900 Cedar Ave. is relocating to a brand new, state-of-the-art Charter Spectrum™ Store at 17575 Glasgow Ave. in Lakeville. The move is taking place to better serve customers and will open Monday, February 8.
Customers will find an attractive, relaxed environment with comfortable seating to watch live sports streaming on a 75" LED HDTV. They can also test drive the interactive Spectrum TV App while using Charter's 60 Mbps internet, watch informative tutorials on HDTV and more. Conveniently located near many popular retail stores, the new store offers plenty of parking for customers. The Charter Spectrum Store will be open seven days a week, making it more convenient for customers to learn more about Spectrum services.
"The new store was designed with our customers in mind," said Pattie Eliason, Vice President of Charter Stores. "Customers in the store won't wait in a traditional line, but rather browse and interact with an assortment of products. Our representatives will show customers the latest advances in technology, help them become familiar with using it, and put together just the right package of Charter services for their home and family."
The Spectrum Glasgow Avenue location will operate with similar hours as the former location, with the addition of Sunday hours:
Monday thru Friday: 9:00 a.m. – 7:00 p.m.
Saturdays, 9:00 a.m. – 5:00 p.m.
New! Sundays, 12:00 p.m. – 5:00 p.m.