News and ViewsNovember 11, 2021
Charter Selected as a 'Best Employer for Veterans' in 2021
Recognition Underscores Charter's Commitment to Combatting Veteran Unemployment
Share Article:
In recognition of its commitment and dedication to supporting military veterans, Charter Communications has been named to the 2021 list of America's Best Employers for Veterans by Forbes and Statista.
The list is based on an independent survey of 5,000 U.S. veterans working for companies that employ at least 1,000 people in the U.S. Employers were rated on a variety of general and veteran-specific topics. Charter was one of only 200 U.S. companies so honored.
Charter has long placed a high value on the leadership skills and sense of purpose the military instills in service members. We offer our veteran employees a number of professional development opportunities, including the Certified Broadband Technician Apprenticeship Program, and the Veterans Mentorship Program through our Veterans Business Resource Group (BRG).
Connecting Veterans With Employers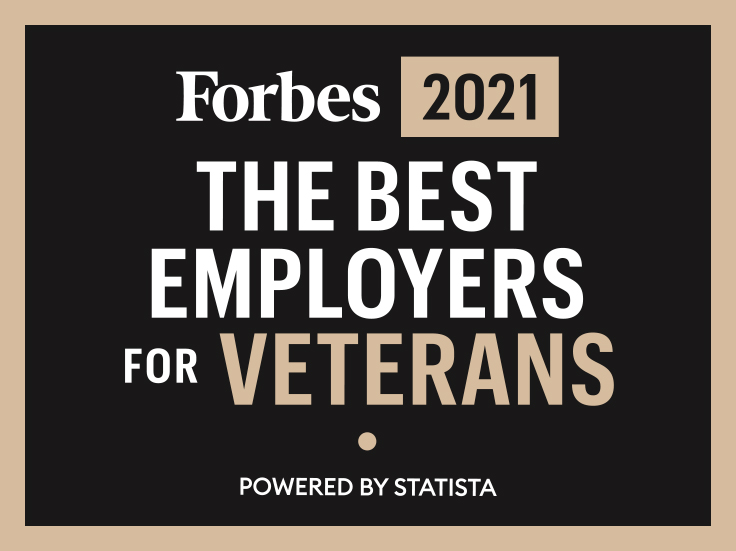 Charter also partners with a number of nationally recognized organizations to combat veteran unemployment, and recruit and hire the best in military talent. One such partnership is Hiring Our Heroes, a workforce development initiative from the U.S. Chamber of Commerce which offers a fellowship program specifically for transitioning service members and their spouses seeking post-military job opportunities.
Launched in 2011, Hiring Our Heroes connects veterans and their spouses with civilian employers eager to embrace the value, perspectives and experiences these individuals can bring to an organization. More than 1,000 companies in the public, private, and nonprofit sectors are competing for this sought-after talent. Select military locations across the country facilitate the innovative and interactive program, allowing service members to apply for fellowship opportunities during their final 180 days in the service.
Charter is one of a number of employers that benefit by gaining access to the best and brightest transitioning service members, while also developing a more comprehensive understanding of the veteran job market. Many of the skills that these highly educated individuals have gained align with those that employers seek in job candidates; in fact, 75% of those accepted into the program hold bachelor's degrees or higher. Our Hiring Our Heroes cohort sessions typically consist of 15–30 active-duty service members and may also include veterans and military spouses in select locations.
The cohort program lasts 12 weeks for service members and six weeks for military spouses. Since early 2020, Charter has hosted several fellows across our footprint in Field Operations, Customer Operations and Network Operations. Our Talent Acquisition team begins by identifying target roles within specific business units near the participating military locations, then develop plans to support professional development for individuals in those roles.
Charter is proud to recognize and value the skills and mission-oriented mindset developed through military service, and remain dedicated to helping veterans – and their spouses – translate them into meaningful careers with us.
For more information on Charter's military recruiting programs, click here.