Press ReleaseJanuary 12, 2021
Charter Launches Advanced Robocall Blocking with Call Guard
Call Guard Blocks Malicious Robocalls and Sends Caller ID Alerts for Suspicious Calls at No Additional Charge
Share Article: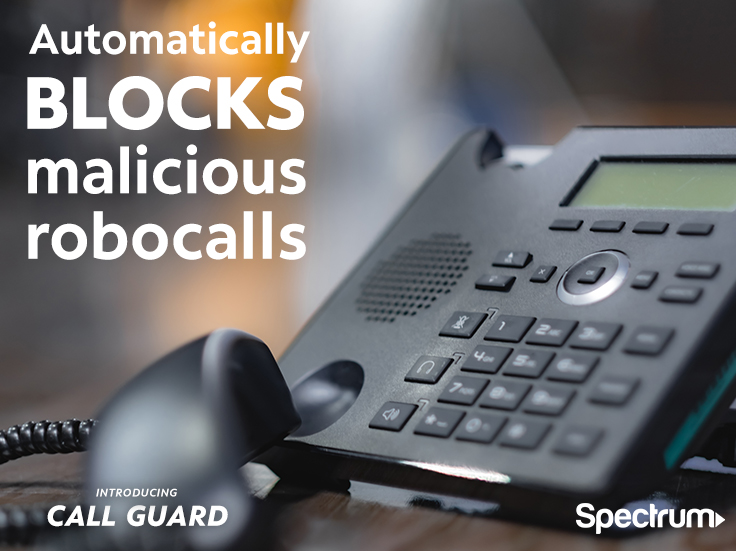 STAMFORD, Conn. – Charter Communications, Inc. today announced the launch of Call Guard, a feature for both Spectrum Voice® and Spectrum Business® Voice customers that automatically blocks malicious robocalls and sends caller ID alerts for other suspicious telemarketing calls.
"Robocalls are consistently the FCC's most frequent consumer complaint and we understand these unwanted or fraudulent calls are not only a nuisance, but can also pose a security threat," said Carl Leuschner, Spectrum's Senior Vice President of Internet and Voice Products. "We are making Call Guard automatically available to all our customers as part of our commitment to providing quality products that prioritize safety and security."
The FCC reports receiving more than 200,000 consumer complaints each year regarding unwanted calls and it has been estimated that U.S. consumers receive billions of robocalls each month.
How to Block Robocalls Using Call Guard
Call Guard monitors incoming calls and applies advanced analytics in order to appropriately score and categorize them. The scoring system helps differentiate between fraudulent calls and robocalls that are delivering important information from organizations like schools or health care providers. Malicious robocalls are automatically blocked while suspicious telemarketing and spam calls are delivered with a caller ID alert, notifying customers of a "Spam Risk." Call Guard will be automatically activated and provided at no additional charge to Spectrum Voice and Spectrum Business Voice customers.
Customers can access Call Guard through their voice portal at Spectrum.net or Spectrumbusiness.net in order to personalize their experience. Through their voice portal, customers have the ability to view which numbers have been blocked, add additional blocked numbers, add allowed numbers to ensure important calls are delivered, or turn off the Call Guard feature.
More information about Call Guard and other Spectrum Voice features can be found at spectrum.com/callguard and spectrum.com/home-phone.
About Charter
Charter Communications, Inc. (NASDAQ:CHTR) is a leading broadband connectivity company and cable operator serving more than 30 million customers in 41 states through its Spectrum brand. Over an advanced communications network, the company offers a full range of state-of-the-art residential and business services including Spectrum Internet®, TV, Mobile and Voice.
For small and medium-sized companies, Spectrum Business® delivers the same suite of broadband products and services coupled with special features and applications to enhance productivity, while for larger businesses and government entities, Spectrum Enterprise provides highly customized, fiber-based solutions. Spectrum Reach® delivers tailored advertising and production for the modern media landscape. The company also distributes award-winning news coverage, sports and high-quality original programming to its customers through Spectrum Networks and Spectrum Originals. More information about Charter can be found at corporate.charter.com.
Media Contact
Bret Picciolo
720-482-4237