CorporateJuly 7, 2016
Charter Customer Shares Story of Historic Flood, Wins Destination America Contest​
Share Article:
This past New Year's Eve, residents in Eureka, Missouri watched in horror, as many of their downtown businesses were flooded with six feet or more of standing water. Throughout the holiday season, historic rainfall drenched many communities near St. Louis, destroying homes, businesses and lives. Despite the flooding, Eureka united to fill sandbags, rescue victims, and help neighbors in need. Celebrations were cancelled, but the town adopted the motto "Eureka Strong!"
Record Breaking 6,400 Entries in Destination America Contest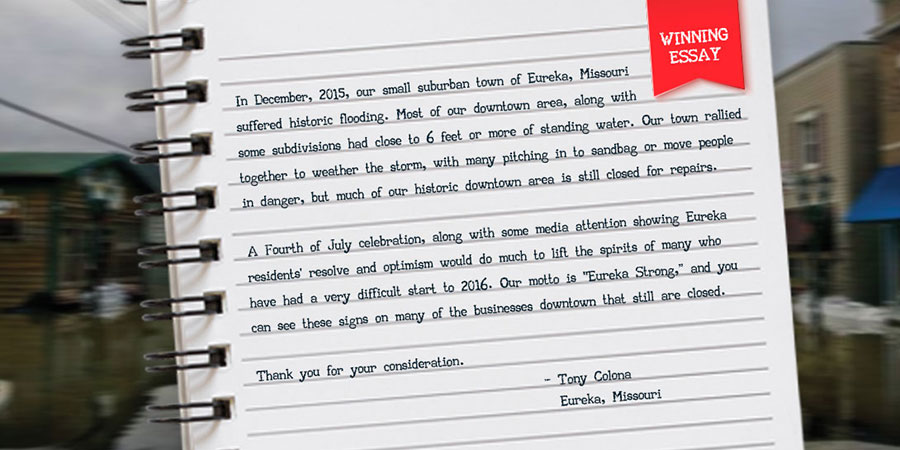 The winning Destination America essay submitted by Tony Colona, a Charter Spectrum customer.
Six months later, Eureka had reason to celebrate this Fourth of July weekend. By telling the town's harrowing story of flood rescue and recovery, Spectrum customer, Tony Colona, won this year's Discovery's Destination America "Red, White and You" essay contest. Every year the competition rewards a deserving community with an Independence Day party.
Colona's essay was selected from a record breaking 6,400 entries, and a grand prize celebration took place Saturday, July 2. The festivities featured fireworks, a kids zone play area, food trucks, vendors and live music.
Win Was 'Huge Surprise' for Charter Customer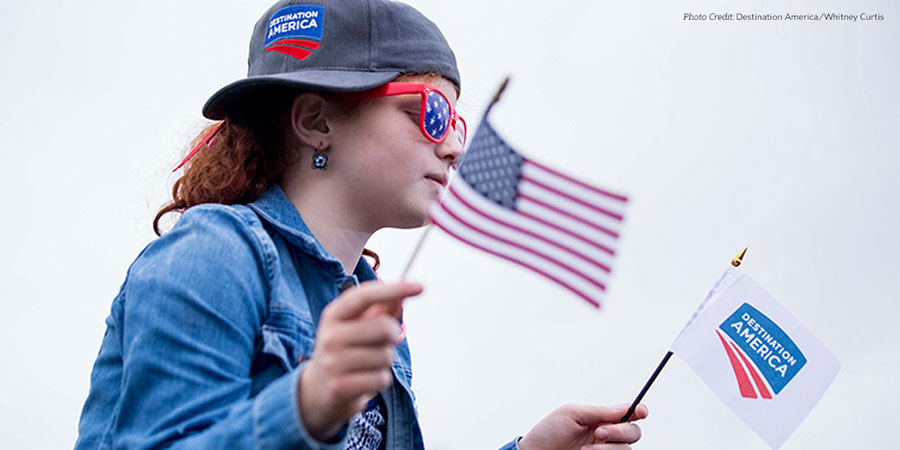 A young woman participates in Destination America's grand prize celebration in Eureka, Missouri.
"This was a huge surprise because at first, I didn't believe I'd actually won," Tony said. "I'm so excited this event made our annual celebration even bigger and better than before."
According to Sean O'Donnell, Charter Communications Area Vice President Central States-St Louis Area, "Charter Communications is proud to partner with Destination America to recognize the efforts and resilience of the Eureka community. Many of our customers and employees were impacted by the historic flooding, and Eureka certainly represents the spirit of American pride when it comes to rising up in the face of adversity."