Press ReleaseAugust 24, 2016
Backstage With Scholarship Winners at the TWC SportsNet Studios
Share Article:
In high school, they were star athletes. Now, a group of four college-bound teens got the chance to be TV stars for a day, thanks to Charter.
The Southern California high school grads — two young men, two young women — are the winners of the Time Warner Cable Sports Championship Drive Scholarship. The $2,500 scholarships recognize high school student-athletes who excel in academics, athletics, community involvement and character.
Scholars Visit TWC SportsNet Stars on Set
As an added bonus, the scholarship winners were invited to TWC SportsNet studios in El Segundo, California to appear in a segment on Access SportsNet: Lakers -- the very same show they watch for Los Angeles Lakers basketball highlights at home.
"I've watched this [show] so many times," said scholarship winner Niles Chang upon entering the studio. A standout basketball player for Torrance's South High School, Chang is headed to the University of California, Berkeley this fall. As an avid Access SportsNet watcher, Chang added "To be actually here is pretty surreal."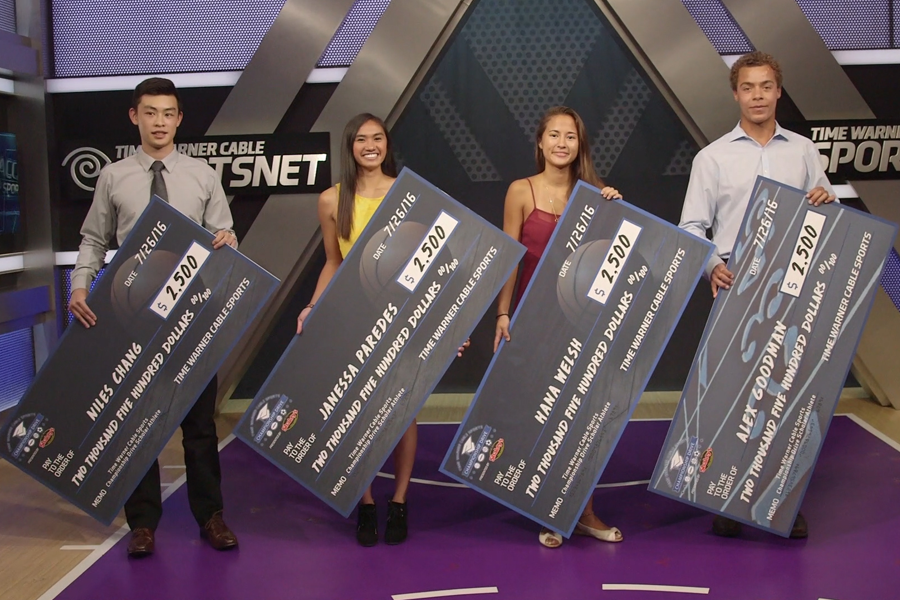 From left to right, scholarship winners Niles Chang, Janessa Paredes, Hana Welsh and Alex Goodman pose with their prize money.
Niles and his three fellow winners were among the hundreds of high school students who applied for the scholarship. Katie Neal, Manager of Marketing for Time Warner Cable Sports, said the four winners went above and beyond.
"Not only are they great in the classroom and on the field, they are incredibly supportive of their communities," said Neal. "We are very supportive of these individuals because we know they will go on to do great things in college and we find it our responsibility as a local business to support them financially in their endeavors."
The students are very happy to have that support. Scholarship recipient Hana Welsh, who was a basketball, track and cross-country athlete for Highland High School, is now bound for California Polytechnic State University in San Luis Obispo. "When I found out it was just four of us [who won], I was really honored," she said.
Scholarship "Experience Is ... More Meaningful Than Money"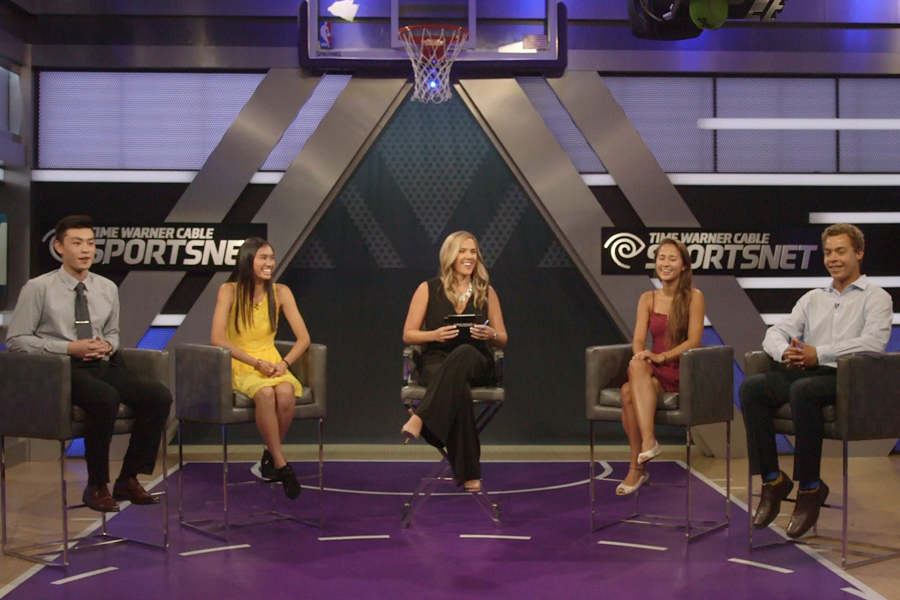 TWC SportsNet Anchor Jamie Maggio interviews the scholarship winners on set.
The winners enjoyed the chance to bask in their TV glory on Access SportsNet as their proud parents and loved ones looked on. "We have a live studio audience today!" anchor Jaime Maggio joked.
"The experience has been even more meaningful to me than the money," Chang said of his TV debut.
While these kids are fans of TWC, the feeling is mutual. "We're truly honored to have the opportunity to showcase our area's top student athletes," says Kristin Malaspina, Vice President Marketing Programming and Content, "and look forward to witnessing their growth and accomplishments through college and beyond."
Watch the video above to see exclusive behind-the-scenes highlights from the students' visit to TWC SportsNet.