Community ImpactFebruary 6, 2020
A Personal Story About the Importance of Working Smoke Alarms
Share Article: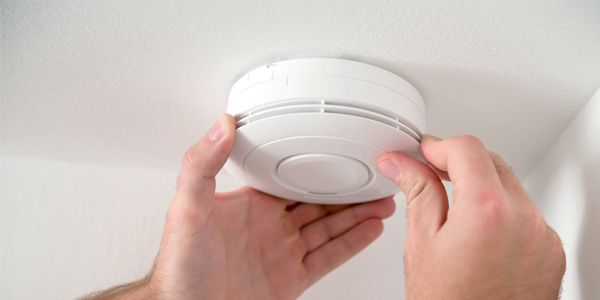 Today, Spectrum Maintenance Technician Chad Chartier is a major proponent of fire safety. The Winona, Minn. employee has firsthand experience with the importance of having working smoke alarms.
Chartier's home nearly burned to the ground in 2012 from an electrical fire. His wife and two young children, ages 3 and 6 months, escaped safely, but the family was forever changed. He's proud that so many Spectrum employee volunteers work with the American Red Cross Home Fire Campaign to install free smoke alarms, replace batteries in existing alarms, and help residents create escape plans as part of Spectrum Housing Assist.
The night of the fire, is one he'll never forget.
In His Own Words
"I was playing in a softball game that night. My wife called and said 'You need to get home. The house is on fire.' By the time I got there the fire department had arrived. The fire was pretty intense still. Flames were coming out of the roof. I remember thinking, 'Holy cow. What are we going to do?' The fire department did a fabulous job. They arrived fast and kept the water damage to a minimum, but it was scary."
After an inspection by the fire department, it was determined that faulty wiring from an older model exhaust fan in the bathroom had shorted out, said Chartier. The fire started in the attic, where there was no working fire alarm.
"My wife was sitting in the house and there was a raging fire in the attic. Luckily the neighbors saw smoke coming out of the house. They banged on the door to get my wife's attention. They were able to get both dogs out and everyone was safe."
His Home Suffered Extensive Damage From the Fire
"That house was built in the early 1900s. It was old, at least 100 years old at the time. It was a three-bedroom, two-bath, ranch style home, with a detached garage. The fire completely wiped out the upstairs bathroom, the kitchen and there was water damage all the way down to the basement. We basically had to gut the entire house. Only the exterior walls stayed intact.
"It happened on Memorial Day weekend that year, and we didn't get back into our house until Thanksgiving."
A Working Smoke Alarm in Every Bedroom
Today, the family has moved to a new home in a new neighborhood. They have working smoke alarms in every bedroom and on every floor.
"My advice today to friends and family is that if you think you have enough smoke alarms in your home, you probably don't," says Chartier. "It's so important to have all floors covered, and to have one in every bedroom – because one minute can make a difference when it comes to getting your family and loved ones out safely."
Learn more about Spectrum Housing Assist here.